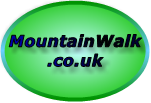 Join us on

Please visit the Sitemap to see the full range of information on this site
MountainWalk.co.uk is produced by
Trish Haill Associates
Copyright

Have you climbed Ben Nevis, Snowdon or Scafell Pike? Or taken part in the Three Peaks Challenge? Or have a special walk you'd like to share? We'd love to here from you! Join us on
or Send us an email.
Ben Nevis - early 1960's
Ben Nevis in Wellies?

Nowadays when we climb Ben Nevis - or indeed any of the three highest peaks in the UK we, for the most part, dress appropriately.



Although there might be a few souls who walk up the mountains on a whim in inappropriate footwear, most of us wear proper walking boots at the very least.

These pictures, taking in July 1961 and July 1962 show that 50 years ago this wasn't such a great concern. I'm very grateful to Tony who's sent the site these pictures showing him (aged 12) and his younger brothers equipped with just wellingtons! Although they climbed in the height of the summer, there is a lot of snow around. Tony writes that his father wanted to walk up Ben Nevis. They went in 1961 but it was cloudy at the top - so they went again the following year and this time got clear views.



What's also interesting is the lack of other walkers - today it would be difficult to take a picture back down the path without seeing groups of other walkers.

If anyone else has pictures of walking the mountains in the past, I'd be pleased to receive them!


Click on the pictures below for a larger image