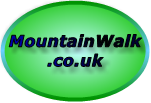 Join us on

Please visit the Sitemap to see the full range of information on this site
MountainWalk.co.uk is produced by
Trish Haill Associates
Copyright

Have you climbed Ben Nevis, Snowdon or Scafell Pike? Or taken part in the Three Peaks Challenge? Or have a special walk you'd like to share? We'd love to here from you! Join us on Facebook or Send us an email.
How to travel to Ben Nevis
How to get to Ben Nevis
Fort William


Fort William is the main town and is situated at the foot of Ben Nevis. When planning to walk up the highest mountain in Scotland it's best to head for this small town nestling beneath. It has a small resident population of 10,000 which is swelled by the numbers of tourists, walkers and climbers who use it not only as a base for climbing Ben Nevis itself, but also for the considerable range of activities available in the area, as well as touring the highlands.

In 1890 the railway came to Fort William, and with it the Victorian tourists.




The town has stayed popular ever since as a good basis to explore the beautiful highlands of Scotland, and of course, a place to stay to climb Ben Nevis.


How to get to Fort William and Ben Nevis by Car


Fort William by road from Edinburgh is 134 miles. The roads in Scotland are not fast, so expect your journey to take just over 3 hours. It's 109 miles from Glasgow, and this trip can be done in 2 and a half hours. From Inverness it is 65 miles, and takes 1 hour 32 minutes.

Once you've arrived at Fort William need to follow the Glen Nevis signs. The Tourist Path begins around 3 miles along the Glen Nevis road at Achintee.





How to get to Fort William and Ben Nevis without a Car

There are a couple of options if you are not driving.

Firstly you can

fly to Edinburgh, Glasgow or Inverness

and

hire a car

.

You can go to Edinburgh or Glasgow and take the train - note that there are no direct trains from Inverness. The train from Glasgow takes 4 hours and 40 minutes so it would make at long day with little time on the mountain to plan to do the trip without stopping over nearby.

Tickets can be bought, and fares and times checked on the

Trainline site

(or enter your travel details below)

You can also take a

CityLink Bus

which is probably the cheapest option. The bus operates from the 21st May to the 7th October (check the website to confirm dates) and takes three hours from Glasgow, or just under 2 hours from Inverness. The bus does run from Edinburgh, but as it goes via Glasgow is a longer route coming in at about 4 hours.

If you pre book a Super Single ticket the price from each of the main cities starts from just £5 one way. If you want to make more of your trip you can have an Explorer pass, which enables you to hop on and off at any of the stops along the route. The cost of a three day explorer pass is just £39 - five and ten day passes are also available.
Getting to Ben Nevis by Sleeper Train
If you are travelling up from London the easiest way (and surprising needn't be expensive) is to take the Sleeper Train. The train travels from London Euston all the way through to Fort William, and the Fort William Railway Station is just a 10 minute walk from the start of the Tourist Path.
The train leaves ever night except for Saturday. It leaves London at 9.15pm, and gets to Fort William just before 10 o'clock in the morning so you can arrive refreshed and ready for your climb! After your walk you would have plenty of time to catch the train back at 7.50 pm, and will be able to sleep off your exertions before you arrive back in London just before 8am the next morning.
By booking in advance a 2nd class sleeper costs from £56.70, but you can have a reclining seat from just £26. Be aware, however, that if you choose the reclining seat you will be worken at Edinburgh at around 4am to change carriages!
Tickets can be booked via
the Trainline.
The West Highland Way


If you are feeling really energetic you can walk from Glasgow to Fort William. The West Highland Way starts at Milngavie, just outside Glasgow and follows old military roads (built by troops who tried to control the Jacobite Clans) and old drover roads (which were used by Highlanders herding their livestock to the lowland markets) and goes the whole 95 miles to Fort William. The walk takes 5 to 6 days, and you are advised to pre-book accommodation along your route.