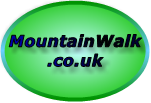 Join us on

Please visit the Sitemap to see the full range of information on this site
MountainWalk.co.uk is produced by
Trish Haill Associates
Copyright

Have you climbed Ben Nevis, Snowdon or Scafell Pike? Or taken part in the Three Peaks Challenge? Or have a special walk you'd like to share? We'd love to here from you! Join us on
or Send us an email.
Ben Nevis - Walking Stories
What is it like to climb Ben Nevis?


Being the highest mountain in the UK, it's not surprising that Ben Nevis is looked upon with some trepidation.

Maureen from Glasgow shares her triumph - and her pain!


I climbed Ben Nevis about seven years ago and wanted to write to you because I was amused that everything you said about the climb was exactly the way it was for me, it's as if you had my account of things.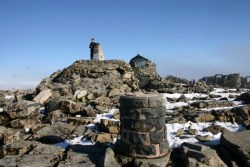 Ben Nevis Summit courtesy of Steve Walker
My friend waited for me at a bench near the bottom and later told me she got a real shock when she saw me. The descent took me 4 hours. I was in agony. I could hardly walk the last flat part to the car park and was hanging on the fence taking baby steps. My friend acted as my crutch, and I went straight to the cold stream to bathe my feet. I went to the doctors on my return and after tests, I was diagnosed with arthritis on my right big toe. I have absolutely no regrets that the climb kicked off this affliction because the experience was worth it. In case anyone reading this is put off, don't be. I continue to pursue my passion for climbing hills; the arthritis doesn't hinder me from doing so.

Imran's Story


I did the Ben Nevis challenge last year and this year I will be participating in the Snowdon Mountain trek.

Ben Nevis was quite tough, and they said this is easier than Snowdon, so I am dreading it. It took quite a while to ascend - approximately 6 hours. The terrain was quite smooth during the first part, and as we ascended higher, we were met by rough terrain with the path covered by rocks and mortar, The great sense of satisfaction is getting to Red Burn, this is a beautiful waterfall which leads into a stream, the water is ice cold. A great reward to quench our thirst and wipe away the fatigue, the water is the sweetest I've ever tasted. Had it not been for the fact that we had still got more mileage to cover with our backpacks, I would have filled up 2 or 3-litre bottles to take back with me.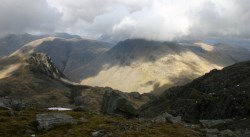 Picture courtesy of Steve Walker
Sean says:


My friends and I took The Tourist Path up Ben Nevis, October 2005.

Just a tourist's walk said my friends...

I have never felt such a series of emotions as when we asked "is it far?" at the grey rocks, the two army guys running down said 2 hours to go looked at me and said maybe 3 hours.



Did it in 2½ hours and so pleased we did. I honestly felt overjoyed and proud of something we'd done. Spent 20 minutes taking pictures and hugging everyone. This was in thick snow then we tried to eat frozen sandwiches.

So glad I did it. The memory will never be lost. My first time in Scotland.

Got some truly amazing photographs, they're in frames on my walls.

P.S. It took two weeks to feel anything like normal in the legs.


One woman's walk on 'The Ben' by Miranda


I am 48, female and have some aches and pains. All the usual stuff you get, a dodgy knee, etc. Having gone to Glen Nevis with my partner and little girl in the caravan I had an intense thought that I wanted to climb 'the Ben'.

I kept my eye on the weather and had the usual chats to other happy campers about if they had done 'the Ben'. Many of the responses were, "tried once and 'nearly got to the top'." I even spoke to two lovely younger women who were happy for me to tag along with them, although were much more generous in how they put the offer.

So with a strong will and all my gear and a lot of support from my loved ones to go for it, I set off at 7.30 on Friday 11th August. Put my trusted iPod with my audiobook in my pocket and naively thought that would help me up, especially if other walkers looked at me with pity that I was all alone. Interestingly on reflection, I wasn't fearful of walking alone but more what others would think.


I started on the visitor track but in hindsight wish, I'd taken the Youth Hostel track. Once again I had doubted my sturdy legs and my own ability to take what was described to me as the 'harder path' - which I discovered on the descent wasn't too challenging but would have been easier going up when I was less tired. I am the kind of woman who enjoys the steep climb rather than the long steady uphill drag. It was a lovely morning but could clearly see that I wasn't going to see much from the summit but it didn't impact on my eagerness to keep going.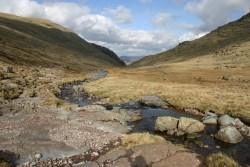 Picture courtesy of Steve Walker

Initially, I saw very few people on the track but as I reached the loch just before halfway, some passed me, and I even met some coming down. Made a mental note of how early they must have started. I was chuffed at all the little chats I had with various walkers, and I deliberately avoided the 'how much longer is it?' question. I was determined that I was going to keep upbeat and cheery.

The iPod never made it out of my pocket. Even though I felt positively glowing with my endeavours, I quickly saw how any lack of concentration especially while I was alone could result in something nasty. Indeed, as I hit the-the first cairn, my legs and brain decided to part company. My mind was very willing, but my legs seemed to be rooted to the rocks. I gave myself a good talking and managed to move on.

After that had to stop every few steps to reconnect the brain to the legs. Never thought for one minute I wasn't going to get to the summit but the realisation that I had actually got this far was starting to dawn, and I was a little bit proud of myself. But while I was feeling satisfied I realised I actually couldn't see the path. I had a wet drip from my nose, my jacket was protecting me from the cloud and the wet, but my hands started to feel very very cold. My seven year old had insisted I take her thermal gloves and oh I was pleased that I had.

Visibility was poor, and I am ok in admitting that I was a little worried as to how I was going to find my way across the rocky landscape to the summit. At this point, all the people I saw on the path seemed to have gone somewhere else. Gratefully I got the gist of following the cairns and had a little burst of energy knowing the summit was there - somewhere.

Finally, there through the mist the piles of rubble of the observatory appeared, then I saw the final cairn. I spent a little time at the summit. My hands were so cold I couldn't even text. The sandwiches I packed stayed in the rucksack. Various people were celebrating with a dram, however once I spent a little time looking at what was at the summit I was ready for the descent.

I was surprisingly pain-free in my creaky knee, but it was fair to say my toes started to feel every rock I stumbled on. As I started down the cloud dispersed and I felt like I was coming into land from a week in warmer climbs. I sat on one of the corners overlooking the Glen and enjoyed my cheese sandwiches feeling the heat returning to my fingers.

Revived from my rest, I did struggle on the pebbles that seem to have been placed on parts of the path to maintain it. Never walked on marbles, but if I did I would I'm sure it would feel like it did on that path. I lost concentration watching a child crying while its parents were saying 'not far now' and was down on my behind. Thanks to the man who gave me a helping hand back up! Once down I did realise just how tired I was.




Accidents happen - but Jill will be back!


Unfortunately, we did not make it to the summit - only half way up by the lake with the zigzag path before us. Sunday 14 August - cold rain, wind and the 'hill' (local speak) was packed like a motorway.

Most climbers were half our age - 57 & 60 - but that's no excuse. We are used to Derbyshire peaks, & Cumbrian mountains. We turned back, 200 metres down, two sticks, proper boots, & I fell over. Broke my wrist in 3 places.

A good Samaritan doctor examined my wrist; I felt sick & faint. Tubigrip appeared from his friend's pocket, wrist immobilised with my water carrier & down we went. Two excruciating hours of struggle and sheer determination later there was the doctor and his friends waiting to make sure we were OK.

The kindness of strangers. When we reported in at the centre, we were told mountain rescue had been called in for lesser injuries. The x-ray assistant at Fort William A&E said don't worry Ben Nevis will still be there next year. I have a sick note dated until 22.12.11, & fluorescent pink plaster - But I'm making a statement. We'll be back!




It is climbed by all manner of folk every day. Some will be experienced climbers or hill runners who will achieve spectacular times in completing both the ascent and descent.

But the vast majority will be people who just want to give it a go to get to the top. Some will have had little or no mountain walking experience before, some will have previously climbed a number of mountains but want to bag this, the ultimate (for height) in Great Britain.

The stories below are from people who decided to give it a go and have shared their very real experiences, in their own words, to give you an idea of what the climb is really like, and also what it's like to achieve the summit of Ben Nevis.


I felt a sense of satisfaction reaching the summit though I was drenched due to the torrential rain, in fact, my mobile, wallet all got drenched (good idea to cover it with a plastic sheet next time).

The descent was tougher. Due to the rain, the slippery surface meant we had to apply more pressure on our leg muscles which effectively meant our legs were giving in, and when we reached the bottom, I just felt relieved - almost identical to the time when the dentist finally stopped drilling at my teeth.

But the memory of the fatigue, damp and misery will be overshadowed by beautiful scenery and a deep sense of satisfaction.


I will only say it was hard to come down and although the youth hostel path was quicker and would otherwise have been fine for me I began to wish that I never saw another rock again. Fair to say it was monotonous.

hrs. up hrs. down....no record but hey I did it alone and felt good about it. So I say if there are any women out there who have a 'thought' to do ' The Ben' then if I can do it, so can you!

Snowden next then Scafell Pike. I think!!!!


It was September weekend & a perfect sunny day. I climbed with a friend with poor fitness but with a passion for the countryside & low hills. After about five hours my friend had expressed several times that she needed to quit. I must mention that this friend stopped many times for a 'fag' and a drink of diet coke! This was to the amusement of other climbers, and it sparked off lots of banter. Against my advice, my friend couldn't resist asking a lady on the way down how long to go, and she hated the reply of "at the pace you're going .. about 2 hours". My friend later admitted that she wanted to "swing" for the woman but didn't have the energy or the strength! She sat down absolutely deflated and had another cig while mulling over the bombshell news. She lasted about ten more minutes and just before the zig zags announced that was it for her.

When we tell our story to "outsiders" they find it hard to believe how emotional that moment was. I knew there might be a chance of me never climbing it again and had the dilemma that I longed to reach the top, but I didn't want to go it alone. I also didn't want to leave my friend to go down alone because she was exhausted from the heat and the exertion and had pushed her fitness far beyond the limit. After an agonising 10 minutes (during which she had another cigarette) we both hugged each other and cried like babies as she encouraged me to go on.

We parted, and I went on about an hour before collapsing down onto a stone. It just seemed never-ending, and it was upsetting because I knew it couldn't be much further, but I didn't think I had it in me.

There was no one around (as I thought) and so I was alone with my quandary. Feeling really low, I was struggling to stand up to head back down when suddenly I heard a voice. I was so wrapped up in my thoughts I nearly leapt in the air and was looking all around to find the person, but I couldn't see anyone. The voice spoke again, and I looked up on the steep slope towering above me. A man was just sitting on a rock way off the track, and I think he read the situation. He didn't say so, but I'm sure he could tell. He apologised for straining my poor overtaxed heart further and said: "It's just amazing innit?" He told me he loved this mountain and was just sitting enjoying it because he had climbed it six times before and this was the first he'd seen it without snow.

He said I hadn't got long to go, and the last effort would be worth it. It just shows you the power of words, as that did it for me - I got up and dusted off my self-pity, said cheerio to the man who looked as though he was contemplating a sit-in and went for it.

At long last after a 6-hour climb, I was at the top. Through the pain & emotion, it was definitely worth it. It was some buzz.

I had a good signal on my phone allowing my friend & I to keep tabs on one another. She was having loads of laughs on the way down with climbers asking if she'd run out of cigs. Others told her of my progress. (If they only knew what I was going through). I always marvel at how they all look out for one another.

My descent was a bit of a struggle & about half way down it became a problem. My right toe was really painful.