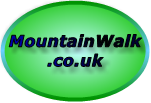 Join us on

Please visit the Sitemap to see the full range of information on this site
MountainWalk.co.uk is produced by
Trish Haill Associates
Copyright

Have you climbed Ben Nevis, Snowdon or Scafell Pike? Or taken part in the Three Peaks Challenge? We'd love to here from you! Join us on Facebook
or Send us an email.


The West Highland Way


The West Highland Way runs for 96 miles starting from Milngavie (just outside Glasgow) to Fort William. The path follows old drove roads (along which cattle used to be driven to market or summer pastures), military roads and disused railways. Walking south to north means that the hardest parts through the highlands comes at the end of the walk. This is the most common direction walked.

It takes an average of six to seven days to complete the West Highland Way. Although the path is well marked it is still advisable to take a map and compass. Novice walkers should avoid attempting the route between November and March as it's possible that there might be deep snow obliterating the path and making the ground difficult to traverse walking poles will be an absolute necessity. Wild camping is permitted on this route.


Great Glen Way


Spanning 79 miles this is a fairly new route, officially opened in 2002. It can be walked in five to six days, and goes from Fort William to Inverness. It is ideal for novice walkers to try their hand at long distance walking as the path follows tow paths and tracks through woodland and is therefore low level with little climbing.

It is normally walked in a west to east direction, ending at Inverness. The main reason being is that walking the other way means the prevailing wind is in your face for most of the route.

There are a couple of steeper sections, and sections which can be muddy so as on all routes proper well fitted walking boots are essential. The walk traverses though woodland, alongside canals, forest tracks and minor roads.



Walking in the Highlands
Outdoor Access Code


The beauty of walking in Scotland is that you can walk almost anywhere. Scotland has an Outdoor Access Code which sets out access rights and responsibilities.


In brief as a walker you have access to the all land bar a few obvious exceptions, for example, houses, gardens, non residential buildings and the land around it, farms, fields with arable crops (although you can walk round these), sports or playing fields, golf courses (although you can cross if you don't interfere with the games) and visitor attractions.

Open access does not apply for certain activities, for example, if you intend to do anything unlawful including not being in proper control of your dog and allowing it to worry livestock. You cannot hunt, shoot or fish, or use a motorised vehicle.

To make the most of your walking opportunities and to enjoy the Scottish Outdoors take a look at the Code so you know exactly what you can and cannot do.

The code is available at Outdoor Access Scotland

.
Deer Stalking Season
All hill and mountain walking carries risks but in Scotland you also need to be aware of when the deer stalking season is, and where you can walk without interfering with the stalk.
Each estate will probably have its own stalking season within the main windows which may only last a few weeks.
The stalking seasons are:
1st April to 20th October for roe deer bucks
21st October to 31st March for roe deer doe
1st July to 20th October for red deer stags
21st October to 15th February for red deer hinds
The busiest stalking season is the 1st July to 20th October. A map giving information of the stalks is available at the
Outdoor Access
site. There will also be Deer Management Group leaflets available and notices at parking places. If a stalk is taking place there should be an alternative route available for you to reach your destination.
Dogs


If you are taking your dog with you make sure that it does not worry farm animals, or is allowed to run through fields which are planted. Make sure it keeps to the path. During the ground nesting bird breeding season (April - July) keep it under close control on a short lead or at heel on moorland, grassland or loch and sea shores. Always clean up dog mess, bag it and put it in the bins provided.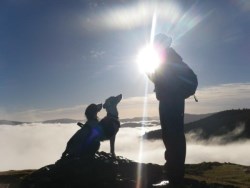 Southern Upland Way

This route runs coast to coast across Scotland from the south west coast at Portpatrick to the Cockburnspath on the east coast. This route is challenging for even experienced walkers, but novice walkers will enjoy walking some sections. The Southern Upland Way is 212 miles long, and in total takes around 12 to 16 days to walk.

Starting from the west the route runs across the lowlands, through forests, moorland and sheep pastures. It then begins to climb. Due to the moorland mist can often descend, so navigation skills and maps and compasses may be required. What makes this walk difficult is the distance between the stages. Wild camping is permitted across Scotland, and could help break up some of the longer stretches.

Speyside Way

The Speyside Way was first opened in 1981. It links Spey Bay on the Moray Firth to Ballindalloch near Aviemore. There are two spurs which were added later - one which takes you to Tomintoul, and the other extending north from Spey Bay to Buckie. The route follows the valley of the River Spey for much of the way through moorland, forest paths and along rivers and through mountains. For those who like the taste of Scotland the route passes close to many of the whisky distilleries of Spey valley.

The walk is 60 miles long and takes between five and seven days depending whether you want to walk the spurs as well. It is not a difficult walk - a lot of flat walking with a few ups and downs, so good for a novice walker wanting to try out a long distance walk.


Other Walks


You can walk just about anywhere in Scotland, particularly in the highlands. There are footpaths to waterfalls (the Falls of Glomach from Morvich in Kintail is an example, a 10 mile round trip which will take around 5 hours), historic ruins, scenic viewpoints. You can walk off the beaten track (but practice those navigation skills first!), or on well trodden paths. The best advice is buy a map for the area you are staying or visit the local tourist information centre for ideas, and just start walking.

Munros, Corbetts and Grahams

Ben Nevis is the highest mountain in the Scottish highlands, and the highest in the UK. Although often climbed alone it is one of the 282 peaks which exceed 3,000 feet in height and which together are known as 'The Munros', after Sir Hugh Munro who first listed them in 1891 (interesting to note that he did not manage to climb them all!). Many people take on the challenge of 'bagging' all the Munros. Although most do so over a number of years, the current record for completion is held by Stephen Pyke. In 2010 he completed all 282 mountains in 40 days.

Such is the variety of walking on offer in Scotland, if 3,000 ft sounds to high for you, you can choose to walk the 221 Corbetts instead which range between 2,500 feet and 3,000 feet in height, or the 224 Grahams which are between 2,000 feet and 2,500 feet. The Corbetts also have the additional criteria that there must be 500 feet or more of ascent on all sides. As with the Wainwrights in the Lake District, planning to walk at least some of these mountains will give you a target to aim for.



Long Distance Walking Paths

As an alternative to climbing the mountains Scotland offers a range of long distance walking paths. Most of these can either be walked in their entirety over a period of days, or just a single stage can be undertaken. Although the paths are well marked a map and compass is advisable, as poor weather can hit at any time reducing visibility. Summer is the best season for long distance walks as the days are long and better weather can be expected. During the winter the days are much shorter, and precipitation in the form of rain or snow is more likely.

There are over 20 long distance walking routes in Scotland. Four of which have been officially designated as Long Distance Routes (LDR's). This paths are waymarked with a hexagonal symbol showing a thistle. Being officially designated means that they are regularly maintained.