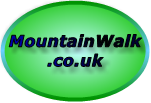 Join us on

Please visit the Sitemap to see the full range of information on this site
MountainWalk.co.uk is produced by
Trish Haill Associates
Copyright

Have you climbed Ben Nevis, Snowdon or Scafell Pike? Or taken part in the Three Peaks Challenge? Or have a special walk you'd like to share? We'd love to here from you! Join us on
or Send us an email.
Ben Nevis Mountain Track (previously known as the Tourist Path)
When to Walk and How Long will it Take?
The Novice Walker should not attempt to walk up Ben Nevis between November and May, or during bad or cloudy weather. The normal time taken to climb to the top by the tourist path is three and a half to five hours - coming down is much faster, between one and a half to two and a half hours. The walk is just over 4 miles each way - a total of 8 1/2 miles in all.

The Ben Nevis Tourist Path (often called the Mountain Track) is the only path which should be attempted by the novice walker.

It is strongly advised that you return by the same route and that you take a map and compass with you.

How to get to Ben Nevis


More detailed information about traveling to Ben Nevis by car or public transport can be found on
here
. The postcode for the Ben Nevis Visitor Centre is
PH33 6PF
.
Before you start your walk check the
Ben Nevis Weather Forecast
- if high winds, heavy rain/snow or low cloud is predicted then postpone your walk for another day.
From the Beginning...
Before you start your walk up Ben Nevis, make sure you are properly prepared. The most important item is proper footwear. Trainers are not suitable footwear for this path as it can become very slippery when wet. The temperature at the summit is just below freezing on average, so make sure you take warm clothing with you.

Tip: Take a camera with you and start snapping those breathtaking views as you go up! The weather will probably change as you climb, and you'll be able to take some beautiful shots as the clouds move over the mountains. You may find that the cloud cover has come down by the time you reach the top, and you can't see anything!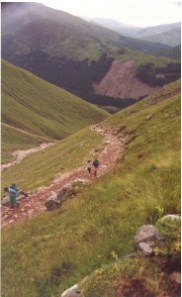 Achintee


To get to the start of the walk follow the signs for Achintee, Claggan Industrial Estate, and then take the turn to Achintee where the Tourist Path starts. Your starting point is about 20 metres above sea level, so you'll be ascending 1,324 metres.

The Ben Nevis walk lets you know what you are in for from the beginning. After crossing the bridge over the River Nevis, you will start to climb steeply using the steps conveniently provided. After the initial steepness, the path does even out to a more moderate slog. The path is very well trodden, and apart from in very poor weather hard to miss. You will also find yourself amongst other walkers - this is not a walk if you like to be completely alone!

Rising Higher


The path winds up the mountain, presenting you with different views and photo opportunities. It is fascinating to stop and look around you, gradually seeing the hills opposite you, and then starting to rise above them, until eventually you are higher than anything else. You'll be climbing steeply to the saddle by Lochan Meall an t-Suidhe at around 570 metres. This is the Halfway Lake.

Apart from your human companions, you will pass sheep and more sheep on your way - when your legs are aching they will seem to mock you with their effortless agility on these rocky slopes.

As you take your rest breaks, you can look up to the Ben and see the path zigzagging above you. Once at the end of the switchbacks, you will think you are nearly at the summit - your legs will be telling you that you cannot go much further, the terrain changes from pleasant green to the grey of rocks.


Rising higher and above the neighbouring hills - note the clearly marked path laid out below (and the ever present sheep!).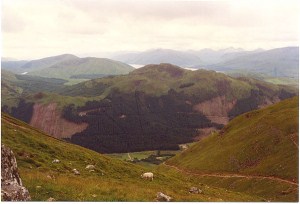 You feel the end is in sight and will be tempted to stop and ask someone who is on their way down (you can recognise the triumphant (albeit tired) look of those who have made it to the top) how much further you have to go. Be warned - the reply will be something like 'another two hours.' It is at this point the novice walker will feel like crying, giving up and will have thoughts of home. But don't despair - you can do this! (and on the way back down you will be able to smile sympathetically at those struggling up and optimistically asking if they are nearly there, and pass on the bad news to them in turn!)

In fact, there are still 700 metres to go once you start on the zig zags, but perhaps not knowing this at the time is better!

Scree


Once on this lunar landscape, the path is only just distinguishable from the rocks around it, and in bad weather easy to lose. It is fairly common to have to climb through snow here, and the cairns that you will pass, some with crosses poking out of them, are where they have found the bodies of climbers. This is a serious walk. So stick to the path.

The scree consists of rocks and pebbles and is fairly loose, so can be slippery.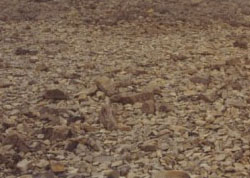 The lunar landscape of the rocky ascent to the summit of Ben Nevis
As a novice walker, you will be very tired - but you are not in a race. You will be close to your goal, and it would be a shame to give up now. So pace yourself - if you have to stop to catch your breath or stretch your muscles every couple of minutes, DO. There is no shame in taking this last part slowly.


The Summit


Eventually, you will reach the summit. The top of the Ben is very flat and big enough from two football pitches. It is not the traditional mountain peak you imagine, and the actual highest point is the cairn - you will have to take your turn to stand on the top, but cameras will be passed around, and someone will always take your photo for you to prove you have reached the top! (Once back in Fort William you can get T-shirts printed or buy a certificate to record your feat, but nothing is the real proof of a photo).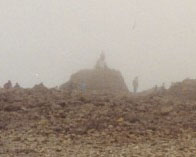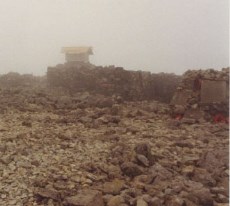 Sit down a while, take a break, explore the ruins of the old observatory (you may find you need to take shelter within the walls on a windy day) and then start to think about making your way down.

The Descent


Coming down won't require as much stamina as going up, but it is still very hard on your legs. If you are unused to hill walking, by the time you're at the bottom, you will probably be feeling every stone on the path through the soles of your boots, and will be very pleased that you invested in a good pair!

Don't plan on doing anything very strenuous that evening or the next day - your legs won't let you. Depending on your level of fitness and how used to walking up and down steep slopes you are, you may find it takes a few days before you can easily tackle even the gentlest of inclines again.

But who cares? You have reached the top of the highest mountain in the UK - be justifiably proud of yourself and have a good rest. You have earned it!

Why did you climb Ben Nevis?
The mountain is there to be conquered, and inspires people every year to make it to the top. For every person who makes it they've achieved a personal challenge. Some make it harder for themselves on purpose by carrying strange items or in fancy dress, and some because they start at a disadvantage to the rest of us.
One such person is Robin Beadle, a physically challenged ex-serviceman who climbed Ben Nevis on crutches. Read his story by here -
Ben Nevis on Crutches
. It's also a brilliant guide to the walk.
If you haven't yet read about the history of the Ben check out
Ben Nevis Facts
. If you've walked up the mountain once, think about walking up and down every day like Wragge, the meteorologist in the 19th Century!
Or if you think you can run to the summit and back in under two hours read about the annual
Ben Nevis Race
.
Many people, attempting an alternative, have become struck by the sudden steepness which they incur half way down the hill although the route looked easy from the top. If fog suddenly descends (as is very likely at any time of year) you could be in real danger.

Guided Walks
This page describes the main walk up Ben Nevis. You may like to consider using a mountain guide who can take you up this path, or other less traveled routes. A guide is particularly useful and will enhance your day. When snow is present it is unwise to climb unless you have experience. We recommend
Adventure Nevis
for all your guiding requirements.