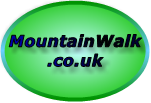 Join us on

Please visit the Sitemap to see the full range of information on this site
MountainWalk.co.uk is produced by
Trish Haill Associates
Copyright

Have you climbed Ben Nevis, Snowdon or Scafell Pike? Or taken part in the Three Peaks Challenge? Or have a special walk you'd like to share? We'd love to here from you! Join us on
or Send us an email.
How Fit do you need to be to Climb Ben Nevis, Snowdon or Scafell Pike?
Now we are not talking here about experienced hill walkers setting record times or fell runners running up these mountains, but the average person who would like to try something different and get to the top of one of Britain's highest mountains.
If you have health problems which may affect the amount of exercise you can do - particularly sustained effort which will affect your leg muscles and your breathing, tell your doctor about your plans before you leave home and be prepared to take his advice.
Practicing to Walk Up a Mountain


If you never walk anywhere, but want to take on Ben Nevis, Mount Snowdon or Scafell Pike as part of your holiday then ideally you will undertake some preparation first. Lots of walking in your local area will help strengthen your legs and break in your walking boots. Ideally you should include hill walking, but if you live in a flatter part of the country this won't be possible. I live in Essex, but still managed to climb all three peaks just by preparing by taking my dogs for extra long walks. Cycling is also good for building up those muscles.

Many people climb these mountains on a whim - and there's nothing wrong with that. It's perfectly possible to reach the summit as long as you are moderately fit, but your legs will ache a bit more afterwards.

Improving your Fitness


If you want to improve your chances of getting to the top then there are a number of simple things you can do. The easiest is to always take the stairs instead of the lift! The more stairs you can climb in your day to day life the stronger your leg muscles will become. If you have a step machine then this is a useful alternative.

Improve your general fitness by running, jogging or cycling or by doing aerobic exercise. If you walk a lot try walking with a weighted back pack. Swimming is good all round exercise that can help prepare you. Exercises such as squats and lunges will also strengthen those muscles that will take the strain on the mountain.

Getting to the top of the mountain for the first time will also be a feat of mental endurance and you will need to push on once you get tired. People tend to forget that these walks are long walks - the walk up Ben Nevis and back by the main tourist path is eight and a half miles long. If you cannot walk this distance comfortably on the flat then you will struggle going up the mountain.
Look after your feet
You will be on your feet for a very long time when climbing one of the three peaks - just think of how you feel after a Christmas shopping trip, and you will start to understand how much strain your feet will take. There will be stones underfoot to bruise your feet if you haven't got thick soles on your boots, and boulders to clamber across which will cause your foot to move around in an ill fitting boot causing blisters.
So the most important preparation is to treat yourself to a proper pair of walking boots, and make sure these fit properly. Read our
guide for buying walking boots
for advice. If you are buying new boots make sure you break them in before attempting a major hike.
Camaradie


Of course, you should always remember that you do not need to reach the top - just going half way will let you experience what these walks are all about. That said, however, you will find there is a point when you are going forward on willpower alone. There is great camaraderie amongst the walkers on these mountains - as you go up you will meet people coming down, and they are happy to share how far you have to go, and what to watch out for. You will wind your way up leap frogging past other people in a similar state to you - don't be worried about those who overtake you, just remind yourself that it is the goal of reaching the top you are after, not geting there first.

You will meet plenty of people who have given up, and there is no shame in that either. You may find that you are spurred on by overtaking a group of people who raced past you earlier - only to drastically slow down as they had not paced themselves.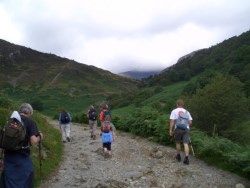 All day walks


All these are long walks and will take a whole day - Ben Nevis is longer, and Scafell Pike and more strenuous, so you should not start off at a run. Start early and take it easy, that's the best way to conserve your energy and reach the top. Children seem to find the walks no problem at all, although it is probably best not to take children younger than 8 or 9 up the mountains.




When you are on your way back down you will find yourself encouraging those on the way up, saying 'only another 10 minutes now', and feeling the pride that you have indeed achieved your aim.

And be amused by the folks you may see - particularly on Ben Nevis. When we walked up we were passed by a lad wanting to mountain bike up the mountain! He had to carry his bike all the way up, and most of the way down to. Yet he was able to say at the finish that he had 'mountain biked' up Ben Nevis!
Pace of the slowest
If you are walking as a part of a group of friends, or as a family, go at the pace of the slowest - it is no use trying to get someone to go faster than they are able, as the result will be that they will give up and turn back. Unless you really have a goal of doing it in a certain time, it doesn't matter how long any of these walks take. The result will be the same - you will have reached the summit. By taking it easy and at the right pace for the group you will all have an enjoyable day!
Ben Nevis Races
Since 1895 there have been races up to the top of Ben Nevis - in the first recorded run the best time was 2 hours and 41 minutes. Nowadays the time to beat is 1 hour 25 minutes and 34 seconds - but we don't recommend you try it. In the summer months local people practice for the race, so don't be disheartened if someone runs past you just at the point when you're thinking of starting to crawl! Read more about the
Ben Nevis Race
.
For those with Mobility Issues
Climbing these mountains is hard work for anyone, but particularly so if you have mobility issues. It can be done, but only with a support group around you. Robin climbed Ben Nevis on crutches, and shared
his story with this website
.
In June 2013 Sally Hyder reached the summit of Ben Nevis in her motorised off road wheelchair. The trip was pre-planned, the wheelchair adapted, and her support group included a Ben Nevis mountain guide, 16 Royal Navy elite and 6 fire fighters.
These, and other stories show that almost anyone can conquer the highest peaks with the right preparation.
For anyone these walks are strenuous. If you never walk anywhere or are excessively overweight then these walks are probably not for you.

Snowdon is the easier walk if you are unsure of your ability to reach the top - and there is always the option of taking the train down if your feet cannot take one more step (although places on the train cannot be guaranteed). Another popular option on Snowdon is to take the train up the mountain, but to walk back down. This way you avoid the most strenuous work (but don't be fooled, even this is no Sunday afternoon stroll, and all paths have steep inclines in places).

You can also take steps to prepare and toughen up your feet, and the most obvious step is to trim your toe nails and file them so you have no sharp edges likely to dig into your toes. Calluses should be removed and any cracks in the skin treated with a moisturising cream or heel repair balm. If you want to toughen up your feet you can do this using the tannic acid in tea. Simply soak them in cold tea for 20 minutes a day for up to 3 weeks before your walk.

You can help prevent your foot moving around in your boot by wearing a good pair of thick, seamless walking socks. It's a good idea to carry a spare pair in your rucksack in case the first pair get wet. Keeping your feet dry on your walk is important, so sprinkle some talcum powder in your socks before you put them on.

If you usually get a blister on your heel, for example, put a sticking plaster on before it forms. If you get a blister on your walk, stop and treat it immediately there and then as it will only get worse and more painful. You should carry a first aid kit with a pin for popping a blister as well as plasters.