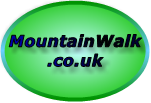 Join us on

Please visit the Sitemap to see the full range of information on this site
MountainWalk.co.uk is produced by
Trish Haill Associates
Copyright

Have you climbed Ben Nevis, Snowdon or Scafell Pike? Or taken part in the Three Peaks Challenge? Or have a special walk you'd like to share? We'd love to here from you! Join us on Facebook or Send us an email.
WEATHER TIP
:
Before you decide to start your walk ring Weatherline no 0870 055 0575. This gives comprehensive information which is updated 3 times a day.

Walking to the Summit of Scafell Pike
Equipment:


Scafell Pike is located in the beautiful Lake District National Park. The seemingly innocuous hills and peaks are deceptive, and walks should not be undertaken lightly. To climb Scafell Pike you need to be properly equipped. Even if you are just a novice walker, on this walk you will need very sturdy, well fitting footwear, a map and a compass. As on all walks you should take water and food with you. This walk is probably the most strenuous of all the major walks described on this site!
Why do I need a map?


Many people walk up Scafell Pike each day - but beware of following the crowd! There are a number of different peaks and walks in the vicinity, and not all paths will lead to the summit that you want! Even on the way down on a clear day you may find you cannot recognise the exact path you took on the way up and will end up walking well out of your way in the wrong direction!

As on any mountain, the mist can come down suddenly, or cloud come in on what you thought was to be a fine day. Even experienced walkers will tell you stories of having missed the path and ended up on top of the wrong peak!

A compass and a good walker's map are essential for this walk.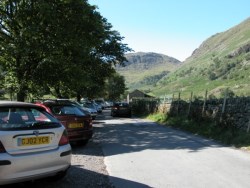 Parking at Seathwaite - remember not all the walkers are heading for the same peak as you!
Routes up Scafell Pike


There are two main routes up Scafell Pike - one starts at Wasdale Head, the other at Seathwaite in Borrowdale. You may find that you're choice of route is somewhat dictated by where you are based. It is an hour and a half's drive from Keswick to Wasdale - Lakeland roads are not fast roads. If you are based nearer to Borrowdale, a slightly longer walk may be preferable to a long drive when you are exhausted!

Although the

walk starting from Wasdale Head

is shorter, both walks rise to the same height - the longer walk from Seathwaite has some stretches at a slightly less challenging gradient, although otherall there is not a lot to choose between them both, and many say the Seathwaite route is the more strenuous!

You will be covering a distance of at least 10 miles, and should expect that the walk will take between 6 and 8 hours if you are a novice walker - obviously the experts can do it in a far shorter time!As on any of these walks, if you are a novice your goal is to get safely up and back, not to make it in record time!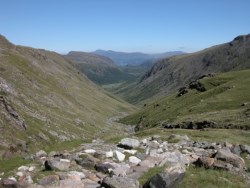 What type of walk is it?


The walk is fairly steep, and much of it is up a staircase of rocks kindly provided by the National Trust. Whilst challenging on legs and knees more used to flatter ground, there are beautiful views to stop and look at, and waterfalls to admire, so take your time and pause often to enjoy the surroundings - and to get your breath!



Scafell Pike is hidden from view as you commence your walk - and even when you first see the summit it can be very deceiving! In order to reach the summit you need to go up and down peaks which are very similar in height! Unlike Snowdon or Ben Nevis, even after you have reached the top your climbing is not over! This can be extremely tiring, so remember to save some water and food for the way back down!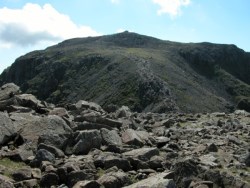 This will be one of your first views of the summit of Scafell Pike - but you will need to go a long way down before reaching that steep final climb to the top!

And of course, what goes up and down, must go down and up again!

And Again!
Boulders!


To walk up Scafell Pike involves a lot of clambering over boulders. Hiking poles are a distinct advantage, and can help you avoid getting broken or twisted ankles. Although many dogs accompany their owners up to the summit, particularly the larger breeds do appear to have difficulty going over the boulder fields. Good footwear with soles that grip well are a real bonus.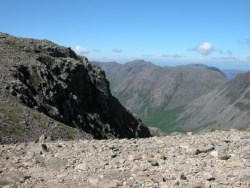 It is difficult to see the path over the boulder fields, but try and head for the cairns as these really do point out the easiest path. The cairns though can themselves be difficult to spot - there is one in the picture to the left, but even in very good visibility it easily fades into the background!

The boulders make a natural obstacle course!
The Summit of Scafell Pike


There is a stone platform on the summit of the peak so you really do know where you have reached the top! You won't often have this to yourself though! Even on a fine day the temperature at the top will be a lot cooler than in the valleys below, and although you may not have noticed it during your exertions to make the final climb, you will quickly become chilled as you take a rest at the top! Time to put on that extra clothing you carried up!

Unlike Ben Nevis or Snowdon, there are no buildings or ruins of buildings, but the natural views in all directions are reward enough in good weather. On misty days you can console yourself that you have indeed reached the top of the highest peak in England.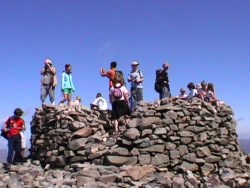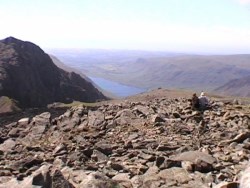 The summit of Scafell Pike
A view from the summit