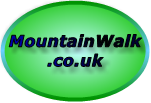 Join us on

Please visit the Sitemap to see the full range of information on this site
MountainWalk.co.uk is produced by
Trish Haill Associates
Copyright

Have you climbed Ben Nevis, Snowdon or Scafell Pike? Or taken part in the Three Peaks Challenge? Or have a special walk you'd like to share? We'd love to here from you! Join us on Facebook or Send us an email.
What it's like when Fog Descends during a Walk on Scafell Pike
Scary Experience
We went up the Seathwaite Farm route (the longer route near Sprinkling Tarn). We took our two children aged 12 and 14 up. We personally thought the Seathwaite route was the easiest in terms of it not seeming a steep climb and had beautiful views down over Borrowdale. It never felt as if we were very high and seemed a very gradual ascent. The only thing I would say is that the route isn't that clear (another family we met at the beginning of the split between the Corridor/Seathwaite route who have climbed the same route as us and were now doing the other route agreed it wasn't very clear).
We climbed Scafell Pike yesterday (29th October 2011). It was drizzling and a little misty higher up but otherwise okay.


Fog!


However instead of the mist clearing it got thicker. We got up to Broad Crag and then we couldn't find the way despite only being 10 minutes from the top. We tried following the cairns but they seemed to disappear, and in the fog we really couldnt see our way! Our two children became distraught and were scared. It was pouring with rain at this point and it started hailing too!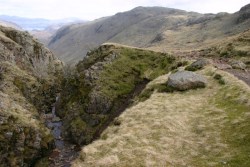 Photo by Steve Walker
We were just about to turn back and go home the Seathwaite way when we saw a group of climbers with GPS and we asked if they minded if we tag along with them. Thankfully they let us go ahead with them and using the
GPS
we finally made it to the top.
Unfortunately due to the fog we couldn't see any views up on the top. It was also bitterly cold. We weren't the only ones to reach the top in the fog though.
We went back down the Corridor route which was actually steeper than the Seathwaite route. We missed the right turn and started heading to Wasdale (fortunately not far) and then we turned back towards Borrowdale.

We had one hairy moment near Piers Gully where once you've crossed the waterfall there's a rock ledge. You have to go around it and go up over the rockface to get on top of the hill. There was a big red arrow on the rockface and we thought it meant you should climb the rockface and we didnt know there was an easier way round if you carried on. So we scrambled/rock climbed up these rocks.
I was pretty scared as it was a sheer drop down to Piers Gully if you lost your footing!

The rest of the way down was a little gruelling in terms of boulders and more boulders climbing down and down but when the fog clears you are rewarded with some lovely views of Wastwater and the surrounding valley and mountains.

It's a shame we missed the views but we are happy to have made it up and down in one piece, only just in the light! It took us just under 9 hours in total. We probably had around 1 hour where we got lost though trying to find the way and I was a little slow on the way down. So I reckon if we did it again it would take around 8 hours as we know where to go now!

We saw quite a few intrepid campers going up as we were coming down.

Best wishes to all who are planning to go up. Just choose a clearer day than we did!!

The Higgins Family
A map and compass - and knowing how to use them before you set of is really advisable, and will get you out of trouble if you end up like the Higgins family. Alternatively, a GPS!
The suggested equipment page has more information
about using a map and compass.
And the moral is....