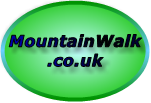 Join us on

Please visit the Sitemap to see the full range of information on this site
MountainWalk.co.uk is produced by
Trish Haill Associates
Copyright

Have you climbed Ben Nevis, Snowdon or Scafell Pike? Or taken part in the Three Peaks Challenge? Or have a special walk you'd like to share? We'd love to here from you! Join us on Facebook or Send us an email.
Walk to Scafell Pike from Wasdale
Getting to Wasdale


On Monday night (8th July 2013) with the weather forecast looking excellent, I got all my gear together with view to an early start on Tuesday 9th to Wasdale Head, and an assault on Scafell Pike, something I had been meaning to do for a long time. Living in Stourbridge, West Midlands, the first thing was the 4/5 hour drive. As I spend a bit of time in the Lakes motorcycling, I should have known better than to trust my Sat Nav, or at least checked its calculated route as I know some Lake District unclassified roads are little more than cart tracks.

The route it took was Windermere (so far so good) then the passes of Wynrose (not too bad) and then Hardknott (OMG).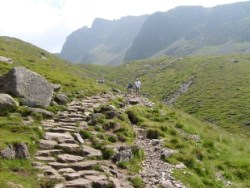 Scafel in view (centre). Another 100 metres on Scafell Pike appears on the right.
Preparations


Arriving at Wasdale Head car park, 9am ish (the bonus was at the time of writing it was free), and it was on with the boots, food in the bag, a quick compass/map check and off.

Now the forecast could not have been better regarding the risk of weather change but this brought a problem I had not encountered before, that of blistering heat, no cloud and no breeze at all. Always the pessimist I did pack light waterproofs (can't help distrusting mountains) but the things I was glad I brought were, a light sleeved shirt, lightweight full length trousers, good boots, a stupid looking but sensible hat and loads of water.

The advice is usually waterproof warm clothing etc, but on days like this my advice is loose light clothing to cover as much as you can, high factor sun screen on exposed bits and a good wide brimmed hat. An average person like me with some experience, reasonably fit but no athlete, and just on sixty years old will spend at least five hours to get up and down, and on sunny days, that's plenty long enough to get serious sun stroke and blistered flesh. The other thing is footwear. I have seen people doing Snowdon in trainers/light footwear (not advised even there) but you just will not get away with that on Scafell, it is so rocky in places that there are twisted ankle (or worse) risks even with good boots.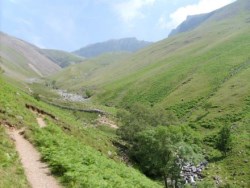 Heading through Lingmell Gill after two paths meet
The Walk to Scafell Pike

The path ways are easy enough to follow provided you just keep an eye on the map, and some web sites even provide a picture looking toward Scafell Pike and Scafell with the route drawn on and little arrows telling you what everything is and it's well worth printing one out.

Start by walking a few yards back to the public toilets, (no summit cafe like Snowdon so your last chance to use the loo), and go over the style next to them following the pointer to Scafell. Across a field you soon find a fairly well defined path with good views overlooking Wast Water taking you up to join the path coming from the National Trust car park.
Interesting and scenic route with a Roman Fort to boot but be warned, Hardknott Pass is very difficult. Unless you are a very confident driver and have a bit of power in your vehicle take another route. It has one in three gradients, adverse cambers, wicked hairpins, all single track and poor road surface. Needless to say I got the old fashioned map out and planned a different route back!



Again the path is well defined though Lingmell Gill, so basically keep the water on your right. After Ligmell comes the Hollow Stones section, and it is just worth checking your map (or picture) at this point and just make sure you head pretty much East. It should not be a problem, although there is a path to Lingmell Crag which goes off taking a North East bearing. There are several choices of path but when Scafell Pike (on left) and Scafell (on right) are both in view, at the Y junction follow the path that goes out to the left of Scafell Pike and goes around the heavy scree and comes back to the summit from the North.

As much of the route, particularly the higher sections are very rocky, it would not be easy to follow a path, however there many stone pile markers which have been created, and in truth in reasonable conditions, it should be fairly simple (but don't get complacent) to find you way up. If you want to come back by the same route it's just worth looking back occasionally and making a mental note of landmarks to ensure you follow the right route/markers back. In my view there are just a few too many markers which makes it look a bit like someone has swept the path and left the piles at the path side, but rather this than either nothing at all or even worse landscape spoiling sign posts.




Plan this walk well and you should be OK, but please note it is hard. I know I did it on an exhaustingly hot day, but never the less, it is certainly much tougher than Snowdon's Pyg, Miners or Llanberris paths.

It is quite unrelenting in its gradient and sections are very rocky and require great care. I took 4 litres of water and used most of it, stopped on a regular basis for rest and food going up and coming down as my legs were turning to jelly and that's when slips and other accidents happen. Much of the landscape resembles pictures from Mars, and it is not pretty or indeed very scenic, but it is England's highest so it has to be done, and the feeling of satisfaction is well worth the effort.

Enjoy the day, stay safe, follow the code and as heavy erosion is a problem on many walks, why not send a few quid donation to the National Trust to maintain them for the future.

Once again thanks to Ray for providing this description and photos!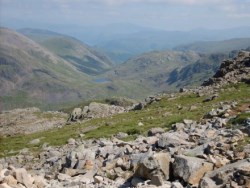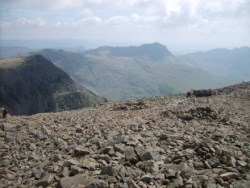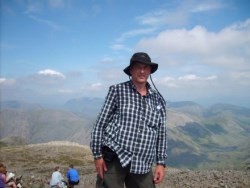 About 30 minutes to go to the summit looking back towards the north
Summit View
Oversize shirt, stupid hat, but I made it!
Thanks to Ray Jacob who has provided his comprehensive account of walking Scafell Pike from Wasdale.