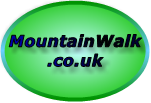 Join us on


Please visit the Sitemap to see the full range of information on this site
MountainWalk.co.uk is produced by
Trish Haill Associates Ltd
Copyright 2013

Have you climbed Ben Nevis, Snowdon or Scafell Pike? Or taken part in the Three Peaks Challenge? Or have a special walk you'd like to share? We'd love to here from you! Join us on Facebook or Send us an email.
The 'Wainwrights'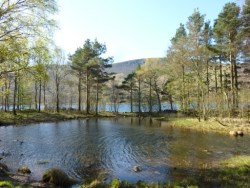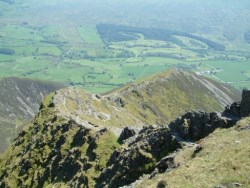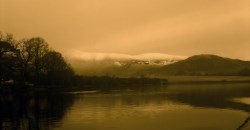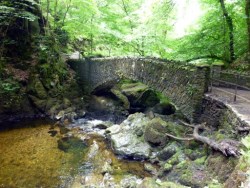 The Lake District undeniably has some of the most beautiful scenery in the British Isles, and it's therefore no surprise that people want to enjoy the landscape by taking part in many of the outdoor activities that the Lake District specialises in. The most popular of these are walking and hiking.


From the afternoon stroll round a lake to a strenuous hike up Scafell Pike, the highest peak in England there's a walk for everyone.

There are nearly 360 fells to be climbed from the highest (Scafell Pike at 3,210 ft (978 metres)) to the much lower Humphrey Head which rises to just 172 ft (53 metres).
Alfred Wainwright
Alfred Wainwright is probably the Lake District's most famous walker.
He produced seven pictorial guides to walks in the fell which were originally published between 1955 and 1966. In all he describes walking 214 of the fells and many people enjoy following in his footsteps and 'bagging the Wainwrights' has become the term for people who attempt to complete every one of the walks described in his guides. Wainwright's guides continue to be the most used by walkers in the Lake District. The guides were revised and reprinted in 2005 - 2009 to reflect any changes, and to show the footpaths more clearly.

Obviously walking all the Wainwrights cannot be completed in one holiday, but can be a challenge to be achieved over time.
Ennerdale - Picture courtesy of Ady Gray
If you live in Cumbria then you're best placed to complete all these walks, but people from all over the country enjoy visits to the Lake District to complete one or more on a weekend.

Picture this. It's October, work is stressful in the hospitality business what with Xmas coming up. My old hiking boots and jacket stare at me from the end of the hall as I pass them...again. I'm sure they begged me to use them: it had been a while. Well two years at least. Shamefaced - living in Cumbria and not making the most of it - I determined to change things. Next day I rose early, chilly and damp out but my mind was set. A walk was on the cards, somewhere, somehow.
One Man's Experience of Walking the Wainwrights
I headed to Kendal bus station to catch that lifeline of the Lakes, the
555
. Hopping off at Grasmere, my plan was just to climb Helm's Crag. But my plan - as all plans - went to pot as soon as the action started.
As I walked towards my start point, I checked my map and without realising it at that point, so began the first of my walks to complete the 214 "Wainwrights". I even titled the photo album of that day's walk "No Fixed Route, No Fixed Destination" after my exploits that day. Little did I know just how my other days would become fixed routes and fixed destinations as my decision to attempt the Wainwrights became a charity challenge. In aid of
The Calvert Trust
at Keswick the challenge was to complete the 214 walks, and to finish them all in a year. An achievement which would see me climb the equivalent of SEVEN Everests in the 12 months.
That first day saw me amble up Blea Rigg. I met some climbers at Pavey Ark, scrambled Jack's Rake with them, but then missed my path home and trekked back from Great Langdale in the dark to Ambleside, tired but happy. From then on, my challenge possessed me as nearly all my free time became dedicated to climbing those peaks and travelling around Cumbria. In the manner of Alfred Wainwright himself, my earliest walks were all done using public transport but towards the end - mainly due to the remote nature of places like Carrock Fell and Uldale - I bought a car. Although your own transport is necessary for some of the harder to reach place, it is possible to travel quite easily round most of Cumbria on the bus and Stagecoach due a fantastic job of promoting "Car-free" sightseeing. I recommend all to give it a go and let the bus do the hard work while you gaze out of the window.
The Wonders of the Wainwright Walks
I've got soaked in the Langdales, braved a blizzard on Great Gable and been sunburnt on Blencathra. One pair of
Berghaus Exploroer Ridge boots
have done the whole journey with me as has one Berghaus waterproof. I'd love to say my trusty beanie hat made it all the way too but, sadly, it blew off in a gale on Gavel Fell on my penultimate walk.
Along the way, I invested in a
Garmin Montana 600
handheld satnav but I always took a compass and map with me. I rescued a fellow walker lost in the mist by Harrison Stickle; reported two new sightings of Red Squirrels at St John's-in-the-Vale and on the banks of Ullswater under Bonscale Pike; visited the Priest's Hole cave one wet day after failing to find it in the dark to sleep in; jumped in - well more like dragged in - with a dog above Aira Force waterfalls; taken two "Southern" friends up a mountain to prove that ANYONE can do it; amassed over 3000 photos of the most beautiful places in England and raised over £1,200, for a charity that takes disabled people on outdoor pursuits, in the process.
The sum total of all this: one tired, sore-legged but satisfied hiker with a million memories to stay with him for life. Like The Lake District? Like Cumbria? Up and at 'em then I say...

On my walks I achieved things I had never tried - nor contemplated - before. I've climbed Grade 1 scrambles in Jack's Rake on Pavey Ark, Striding and Swirral Edges on Helvellyn and Lord's Rake between the Scafells.

I've seen two young Osprey on their flight leaving the nest to start a life of their own, had a cup of tea while two deer stopped to graze and I've even been lucky - and grateful - to see the Golden Eagle on the wing.
Blencathra - Picture courtesy of Ady Gray
Derwent Water - Picture courtesy of Ady Gray
Bridge above Aira Force - Picture courtesy of Ady Gray
Note about the author:
My work, and incidents at work, caused me to fall prey to mental health issues. Up until that point I never realised that 3 out of 4 people in the UK will suffer from stress, depression or similar mental health problems at some point in their lives. I suffered from stress leading to a mild depression. Days out in Cumbria, the National Park and on those many fells gave me the solitude I required to repair the damage done. I met people to walk with who enjoyed the countryside as much as me and let me have my peace whilst hiking with them and I had support from friends I never knew were hikers. My hiking has, so to speak, fixed me and I use it to promote awareness of mental health problems to others.
If you want to contact Ady for information about his walks or to enquire about the photographs he has for sale (all proceeds to charity) you can email him
here
.