A couple of months before another dog was injured in a boulder field close by and again had to be recovered by the rescue team - this time taking the injured dog, itís companion and the owners across a lake in a boat as the shortest way back.

It might seem a great idea to take your dog with you when you walk up the mountains in the Lake District, but do give pause for a moment to think about how it will affect them. We might steel ourselves to push on to reach the top, but unless you regularly walk these distances, on this type of terrain and up and down steep paths, your dog will be as unused to it as you are, but unlike you, will not feel the same sense of achievement when he reaches the summit.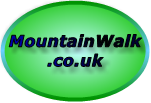 Join us on

Please visit the Sitemap to see the full range of information on this site
MountainWalk.co.uk is produced by
Trish Haill Associates
Copyright

Have you climbed Ben Nevis, Snowdon or Scafell Pike? Or taken part in the Three Peaks Challenge? Or have a special walk you'd like to share? We'd love to here from you! Join us on
or Send us an email.
Walking Up Scafell Pike? Leave Your Dog at Home
Dogs on Scafell Pike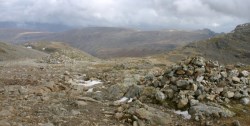 Boulder Field on Scafel Pike
Scafell Pike is the highest mountain in England. Although at 978 metres high it is smaller than either Snowdon or Ben Nevis it is a climb. Unlike the other two famous peaks it is not such a remarkable landmark, and you cannot see the actual peak until you are up close.

It is not a simple climb up and then down again either. You climb a smaller peak, then go down, and then have the final climb to reach the top of Scafell Pike itself.
The way is strewn by boulder fields and scree, and you need to pick your way carefully across the boulders to avoid slipping and twisting an ankle. For the human walker hiking poles are very much advised to help cross the uneven ground.


Larger dogs in particular find crossing the boulders difficult. A couple of years ago a Golden Retriever had to be rescued by the Wasdale Mountain Rescue team and be carried down the mountain on a stretcher, and recently walkers had to be rescued as their large dog could not continue over the loose slippery boulders so they had to be shown a different route down.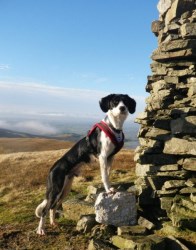 If you do decide to take your dog with you on a holiday walk in the Scafell Pike area, or any other mountainous region for that matter, do consider whether the paths are suitable for him. If the going gets rough, turn back. You might want to reach the summit of that mountain, but is it worth risking your dogís legs just to get the buzz of getting to the top?
There are many fells in the Lake District where you can walk your dog safely and both have an enjoyable time, but please remember to leave the area tidy for other walkers by picking up after your dog. If your dog is not used to livestock, or has a strong prey drive you will need to keep him on a lead. Farmers have the right to shoot a dog which is worrying sheep.
Read more about walking in the Lake District.
Many of the car parks in the Lake District are owned by the
National Trust
and members can park for free . Joining before your holiday could save you money.
Broom Fell Summit - more suitable terrain for dogs