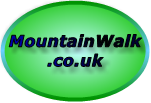 Join us on

Please visit the Sitemap to see the full range of information on this site
MountainWalk.co.uk is produced by
Trish Haill Associates
Copyright

Have you climbed Ben Nevis, Snowdon or Scafell Pike? Or taken part in the Three Peaks Challenge? Or have a special walk you'd like to share? We'd love to here from you! Join us on Facebook or Send us an email.
Interesting Facts about Scafell Pike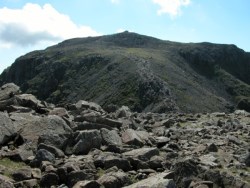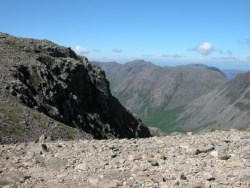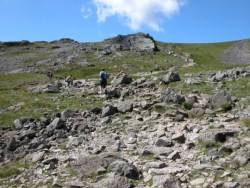 Facts and Figues


Scafell Pike, situated in the Cumbrian mountains in the beautful Lake District of Great Britain is England's highest peak.



It stands 978 metres high (3,208 feet), and is climbed by thousands of people each year. Along with Ben Nevis and Snowdon it is one of the mountains climbed as part of the Three Peaks Challenge.


Sca Fell


Originally the name 'The Pikes of Sca Fell' was applied to the peaks which are nowadays known as Scafell Pike, Ill Crag and Broad Crag. An error on an ordance survey map naming the highest 'Scafell Pike' has now stuck and is in common use. The neighbouring peak, Sca Fell, looks higher from many angles, but is actually just 10 feet lower.

.


Famous Visitors


It is difficult to discover who first ascended Scafell Pike, but possibly easy to see why no particular note was made of the achievement. Unlike Snowdon or Ben Nevis which stand proudly distinct in their surroundings, offering a challenge to all who see them, Scafell Pike is not a peak that is clearly seen from a distance, and indeed looks no higher than any of its neighbours! However, that said, the highest mountain in England has drawn many to try and reach its summit for over two centuries.

Mountain climbs in the Lake District becaem popular at the start of the 18th century. Samuel Coleridge visited and climbed ScaFell in 1802, which inspired Dorothy Wordsworth, sister of the famous poet William Wordsworth, to climb with her friend, maid, hired porter and shepherd guide in 1818. Although there doesn't seem to be a record of William himself climbing the peak, 4 years later he used his sister's notes on the climb and published it himself. Dorothy states that the summit was 'gained after much toil, though without difficulty' which probably sums up most people's feelings of the ascent!

The romantic setting of the Lake District seems to have been a draw to all types of poets and writers, with many descibing their travels as a legacy to those who follow. Edward Baines climbed the Pike in 1828, and described his experiences in 'A Companion to the Lakes of Cumberland, Westmorland and Lancashire', and in the 20th century, Wainwright famously described the walks to all of the peaks in the area.

During the 19th century, tourists did not use maps and compass to find their own way up the peaks, but instead employed local people to be their guides. This is probably easily explained, as most working people had little free time or money to spend lazing their time away in this manner - local guides would be grateful for the little extra by showing the gentry the way to the summits, and the gentry the spare pennies with which to pay them!

Times do not change, however, in many aspects, especially in the necessity for proper clothing! Edward Baines notes, that after his five hour's walk, 'my shoes and stockings were soaked with the water of the bogs we had crossed, and when I took them off to dry them, I found that my toes had lost some of their skin, from constant pressure against the shoe in coming down the hills. If my shoes had not been both stong and roomy, I should have suffered much more.'

Take a Map
The route up Scafell Pike is far harder to follow than the paths described up Snowdon and Ben Nevis. A map and a compass are necessities for this mountain. The area is criss crossed with paths going in different routes and directions, and even in good weather it is not always possible to retain a sense of direction, or to recognise on the way back, the route that was taken to the summit!

The path itself, though way marked with cairns, often is not easy to follow.


The climb up Scafell Pike is one which many people attempt and succeed each year - but others, perhaps less well prepared or simply who have had bad luck - fail and need to be rescued. The bravery, endurance and perseverance of the rescue teams should be well admired.

Rescues on Scafell Pike are not a 21st century phenonmenon. John Ruskin, in 'England's Lakeland - a tour therein', describes meeting in the summer of 1859 a young gentlemen 'attired as though for a lounge in Bond Street' attempting to climb to the summit. When the young man did not appear in the evening, some ot fhte locals, in thick mist, went to try and find him. They found him on the summit, 'dead beat... lying breathless upon his back and watching the awful curtain of night and death descending upon him'. Even the local dalesmen lost their way in coming back down in the dark, but the carried the man back to Eskdale. As Ruskin notes (and which is still the case today), 'The Wastdale folk with do any kind thing for any body.'

Interesting Facts


If you atttempt to climb Scafell Pike there is nothing better to take with you as an energy booster than Kendal Mint Cake - this has been taken on many Everest expeditions!

Wastwater is the deepest lake in England.

The hardiest of all breeds of sheep, the Herdwick, are true Lakeland sheep and can be found in the Wasdale area.

A path on the side of Great Gable, going round to Honister is known as Moses Trod. Not a reference to the biblical figure, but instead this Moses was a local quarryman by day, and a smuggler by night, who would bring whisky over these hills.

Scafell Pike was donated to the National Trust in the first quarter of the 20th Century by Lord Leconfield in memory of the men of the Lake District who fell in the First World War.

The summit of Scafell Pike is strewn with boulders, and much of the walk up involves clambering over rocks and uneven footing. It is a rugged barren grey peak, with no vegatation.



There are two main routes up Scafell Pike, the most popular starting from Wasdale Head Inn (itself famous as reputedly the birth place of British Climbing), and the other starting from Seathwaite in Borrowdale. The second is a longer route, but one which rewards the walker with magnificent views

If the path is missed it is possible to come up against a dead end or crag which is very dangerous to attempt to climb or descend, and even on the well marked routes, the way is often across boulders on which it is all to easy to slip and break or badly twist an ankle.

Rescue teams are often called out to assist people who have hurt themselves, or to help back down someone who has become helplessly lost! Sometimes it is not just people - on the 22nd July 2006 the emergency rescue team were called out to carry a Golden Retriver down the mountain who had badly cut his paws at the top. The six stone dog took five hours to bring down on a stretcher.

More seriously, perhaps, the Wasdale Mountain Rescue website has salutory information for any would be walker on Scafell Pike - there is good information about what to do in an emergency, and a log of recent call outs. A quick look through will show the types of difficulties which people get into. Read the advice the mountain rescue team give to walkers.