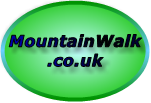 Join us on

Please visit the Sitemap to see the full range of information on this site
MountainWalk.co.uk is produced by
Trish Haill Associates
Copyright

Have you climbed Ben Nevis, Snowdon or Scafell Pike? Or taken part in the Three Peaks Challenge? Or have a special walk you'd like to share? We'd love to here from you! Join us on
or Send us an email.
Hiking Essentials - Maps, Compasses & Useful Equipment
Maps and Compasses


If you are walking up Ben Nevis as a novice walker there is only one path you should take - the Tourist Path. Scafell Pike has two main routes to the summit (but the path is criss-crossed by a number of other walks). There are six main routes up Snowdon.






A handheld GPS is the modern way to help you get you to where you want to go and back again. However, it's still advisable to take a map and compass with you. One benefit of a GPS is that if you or any of your companions have an accident when hiking your GPS will allow you to tell the rescue services exactly where to find you, and possibly save a life. You must remember with the GPS that it is not 100% accurate, and could be several metres adrift. Just like road sat navs can direct you down a one way street, you still have to use common sense with a GPS - it wouldn't be clever to follow it blindly off the edge of a cliff! See our guide for buying a GPS for hiking.


Ellis Brigman have a comprehensive

range of compasses

and Amazon have a good range of maps. See some that are recommended above.

Other Useful Equipment

It's okay taking a map with you, but the times you will need it are when it's wet and foggy, so a plastic map case is useful to keep you from having to refer to an ever soggier piece of paper! A waterproof covering for your phone, camera or money is also a good accessory to take with you.

If you are planning to do the Three Peaks Challenge at least some of your walk will be in the dark, so a good torch and spare batteries will be essential. Even if you are not planning to be out on the mountain at night, take a torch with you just in case. Most torches have a setting where they can flash a red light - this will help rescuers reach you should you have an accident. To keep your hands free, torches which you wear are better than torches that you hold.

Although the mountains can be easily attempted by novice walkers, it is always best to be prepared for the worst. Hence taking emergency survival foil blankets which are inexpensive and take up next to no room in your rucksack is always advisable. Should you, or a member of your party, slip and fall these will help them stay warm until help arrives.

A pocket sized first aid kit is always useful to have around.

You should take a camera with you to record those special moments and incredible views. Mountain walks are great for photo opportunities - almost no two pictures will be the same due to the light and shadow combinations. I use a Canon SLR camera which takes fantastic shots, although the drawback is that it is quite heavy. Personally I'd rather take this and suffer the extra weight, but you can get good shots from compact cameras, or even nowadays from mobile phones.


Although in fine weather it is relatively easy to follow the path you've chosen, in bad weather it's easy to get disorientated and miss the path you should be taking. All too often Mountain Rescue teams are called out simply because people have wandered off route and cannot find their way back again - and sometimes they've got themselves into very tricky situations!

The cheapest and traditional way of navigating your path is to use a map and compass. If you've not used this before its a good idea to practice at home first - see below. For instructions on how to use a map and compass properly visit our page on

orienting a map

.