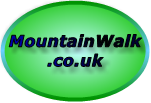 Join us on

Please visit the Sitemap to see the full range of information on this site
MountainWalk.co.uk is produced by
Trish Haill Associates
Copyright

Have you climbed Ben Nevis, Snowdon or Scafell Pike? Or taken part in the Three Peaks Challenge? Or have a special walk you'd like to share? We'd love to here from you! Join us on
or Send us an email.
Hiking Accessories - Rucksacks and Backpacks
What to look for in a Good Hiking Backpack
A good hiking backpack or rucksack is a vital piece of equipment for any long walk, particularly when tackling a day long walk up one of the British Mountains.


As the weather is always unpredictable in the UK, particularly on the highest peaks, you will need to carry waterproofs with you, even if you start off in bright sunshine. For long walks you will need to take something to eat and drink with you and you'll probably want to take a camera with you, as well as perhaps a map, compass, torch, phone, mp3 etc. Having everything in a rucksack keeps your hands free.

Rucksacks come in different shapes, sizes and costs.

You need a rucksack that's big enough to carry everything you need, but small enough so that it doesn't become an extra burden dragging you down. A 15 litre rucksack may be big enough in the middle of summer, but a 20 to 25 litre may be better if you want to put a jumper in there as well. 10 litre rucksacks are good for children to carry.

A day pack is sufficient if you are not planning to include an overnight stay on the mountain - if you are you'll need something a lot bigger to fit in your camping gear.

You don't want to be taking any more weight up the mountain than you need to, so get a rucksack that is lightweight itself. And it should be comfortable to wear with padded shoulder straps, and a strap across the front so the shoulder straps don't keep sliding down. Larger rucksacks benefit from waist straps as well. The straps should be adjustable for a comfortable fit, and to cater for different heights. There should be padding in the back of the rucksack - cheaper rucksacks often leave this out and you may find yourself climbing with something digging into your back all day.



A cool air design obviously has benefits. Whether you like a rucksack with lots of zips, pockets and attachments for gadgets is totally up to you! The benefit of having lots of pockets is that you can have a place for everything - just as long as you remember where you put it!You may want to consider a backpack that's compatible with a hydration system.

A good hiking backpack should be waterproof to keep all your belongings safe, or as an option it might come with a waterproof cover which is probably even better as it stops persistent rain getting in through seams and zips.

Attachments to hold your walking poles when not in use are a good addition.




Where to buy a Good Hiking Backpack
Nightgear
stock a large variety of backpacks and rucksacks such as Bergens to help you carry all your equipment.
Yeoman Outdoors
Yeomans Outdoor Leisure also has a large selection of day sacks.
Outdoor Look
has a selection of rucksacks, day packs and backpacks.
As with all other equipment, if you are not going to be a regular walker then a good lightweight hiking backpack can be obtained quite cheaply although there's a risk that straps might break or zips might stick. If you are going to be regularly walking and hiking then it is worth investing in the best hiking backpack you can afford. The best idea is to find a quality backpack which is on offer!