The advantages of leather material walking boots are that they are always very waterproof and will keep your feet dry through rain, snow and anything else Mother Nature can throw at you. Another major advantage is that the boots are very, very tough, and if you snag them on a stick or small space they aren't as likely to rip as synthetic boots.

There are disadvantages to leather walking boots too however. Of course one thing is the price, which may not suit all budgets, and secondly there is the fact leather boots will take a great deal of "breaking in" before the leather is supple enough to walk in for great distances with any degree of comfort.

Synthetic fibre walking boots can be much cheaper than their leather counterparts, but with the range of fabrics so varied this market really is a case of you get what you pay for.

Fabric boots like these are available for anything between £10 and £100 online, and as stated above, that's down to the fibres involved with the making.

Towards the cheaper end, you are not likely by any stretch to get a boot of sufficient quality for serious walking in places like Snowdon or Ben Nevis, but they will be more than suitable for dog walkers or those who enjoy an occasional ramble in the summer months.

Your more expensive boots however will be made from high quality materials such as Gore-Tex. Gore-Tex is a man made material which keeps out water and releases heat. Leather also keeps out water, but will not allow heat out which is where the more expensive synthetic boots hold a distinct advantage.

The boots also have an advantage over leather in that they don't require anywhere near as much breaking in, as most the synthetic fibres used to create the boots are very soft and supple.

Synthetic boots are a clear winner for novices or for those who need to buy boots quickly, however leather is still the king for the serious hiker who travels on major expeditions or anyone who hikes on a more regular basis.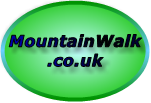 Join us on

Please visit the Sitemap to see the full range of information on this site
MountainWalk.co.uk is produced by
Trish Haill Associates
Copyright

Have you climbed Ben Nevis, Snowdon or Scafell Pike? Or taken part in the Three Peaks Challenge? Or have a special walk you'd like to share? We'd love to here from you! Join us on Facebook or Send us an email.
Guide to buying Walking Boots
Buying the right Hiking & Walking Boots


Buying the right walking boots can be a real difficult decision. The market is flooded with manufacturers, all offering the latest and greatest in hiking and walking boot technology.

The golden rule you should follow regardless is simply what works best for you, and stick to buying a boot for what you need it for, not what you might need it for. For example a pair of walking boots which cost £200 per pair might protect you from all possible disasters, if you're only doing the occasional bit of light hill walking then you've overspent. Likewise, a cheap pair will disintegrate half way up any major mountain!


So we sympathise that choosing the right boot can be troublesome. However, we've got a guide for you which should answer many questions you have and guide you through the world of buying hiking and walking boots.
Consider your usage


As we said earlier in this article, it's very important to consider just how much you're going to use the boots.

An experienced walker will know exactly what they need, and often will refer to the same brand they had previously.

For the first time buyer or novice walker, a cheaper pair will be of much more benefit to you. Many people choosing for the first time are headed off on a one-off hiking trip, and while they may consider that they're going to do "loads of hiking" afterwards, the reality is that hiking is much more demanding than you'd think, and you really don't want to be lumbered with an expensive pair in the shoe cupboard gathering dust.

If you are headed off on your first serious walk and you do enjoy it, then you can invest in a more expensive pair.
Choosing the right material


Walking boots tend to come in only two different sets of material; leather and synthetic. There are pro's and con's to each material too, so don't just go assuming that because leather is more expensive that it's better.

We'll start with looking at leather boots, which are nearly always the more expensive material. Leather walking boots will set you back anywhere between £40 and £100 per pair.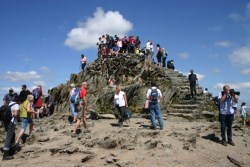 To make it to the top of Scafell Pike you need to have good walking boots!
Getting the right fit


Getting the right fit of boot is absolutely crucial, regardless of what level of hiker or walker you are, and no matter what material and cost you have gone for.

When it comes to trying boots on in a shop, always remember to leave a gap of around 1-2cm from the end of the shoe to your toe, to allow for your foot swelling. Your foot won't swell with pain, or at least we hope not anyway, but through simply walking on it in what your body will consider an excessive manor. Not to mention it will get vary warm inside the shoes also which will cause expansion.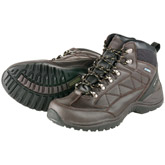 The price is right


The price of walking boots can vary massively, even for the same pair. So if you try on a pair in the shop, there's no need to dive in, and there are plenty of places to buy walking boots online which will offer exactly the same shoe with a considerable reduction.

Chances are your walking boots are the one item of hiking or walking equipment which will get the most use, and take the most punishment, so make sure you've considered all these options when you purchase a pair.