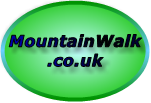 Join us on

Please visit the Sitemap to see the full range of information on this site
MountainWalk.co.uk is produced by
Trish Haill Associates
Copyright

Have you climbed Ben Nevis, Snowdon or Scafell Pike? Or taken part in the Three Peaks Challenge? Or have a special walk you'd like to share? We'd love to here from you! Join us on
or Send us an email.
Wild Camping on Ben Nevis
If you've read Nick and friends first
attempt
to do the Three Peaks Challenge you'll have read of of Simon's dreadful experience climbing Ben Nevis, when he was sick three times in the first hour.
Note on Wild Camping in Scotland
Unlike in England and Wales, Scottish law gives you the right to camp on unenclosed land and wild camping is encouraged throughout Scotland. Campers must follow the 'leave no trace' guidelines. A copy of these can be found at
Scotland's Outdoor Access
website.


Dean had bought one of those easy erect tents, they are sort of circular in shape and they are certainly easy to erect, however taking the thing down and packing it away is a totally different proposition!

Eventually it was decided that Dean would also take a bivvy bag for the night along with nice comfortable sleeping mat. It was quite surprising that even though we thought we were travelling light our rucksacks were very heavy. In Simon's case his certainly was really heavy as he had packed his tent. The date was 29 July and, as it happened, it was my birthday.

The Walk up Nevis

The weather at the foot of the mountain was extremely hot which made for a long arduous walk to the lake which is situated just below the halfway point. Finding somewhere to leave our luggage and finding somewhere to pitch Simon's tent was nowhere near as easy as it first seemed, as most of the ground was boggy. We eventually found a place close to the lake, and at this point I was feeling rather smug as I could have taken my bivvy bag anywhere on the mountain. However we did decide to stay together and left all our equipment inside Simon's tent until we had made it to the top of the mountain.

We were not far past the waterfall halfway point before we had a huge deluge of rain. What appeared to be a passing shower gradually got more and more intense the higher we climbed. The last half hours walk was increasingly difficult as the wind was nigh on gale force and the rain had turned to sleet.

As anybody who has climbed Nevis will know that there are usually hundreds of walkers and sometimes you can meet some interesting people as ships pass in the night. Given the weather, we will always remember on family, a husband wife and young son who started walking with us.

The lady will always be memorable simply because she was so poorly prepared. I vividly remember her denim jeans being stuck to her legs, like she had just got in a bath to shrink them. I could see she was getting more and more distressed and clearly didn't want to go on. Her husband didn't really voice any opinions as to what he wanted to do, however the little boy was desperate to get to the top. It was tempting to let the little boy join us and meet his parents on the way down, however we thought better of this given 'elf and safety being what it is. Something I will always feel bad about, was urging them on, and telling them the top was not too many minutes away, which was not true as I later found the last part of moonscape walk seems to go on forever. Sadly, for them they had to turn back with their sad faced little boy.

At this stage Dean, who is well overweight, was feeling the pace and the weather. I vividly remember seeing his hands hanging out of his gortex combat jacket both looking like soaking wet lobsters. Dean promised me he would never ever do a mountain again, but to be fair he did make it to the top. Little did he know the best was to come.
At Base Camp


By the time we got back to "base camp" soaking wet and still in torrential rain, Simon was looking rather smug as he got into his nice little two man tent. He took great pleasure in passing out our rucksacks and bivvy bags. His comment was he was "just going to slip into the silk smoking jacket with cravat" in preparation for the evening ahead. To be fair he did pass me a bottle of champagne for my birthday! For Dean and myself the challenge was becoming evermore difficult. Whilst sleeping under the stars in a bivvy sounds romantic, the big problem is trying to change into dry clothes and get the sleeping bag inside bivvy without getting everything soaking wet. It is nigh on impossible, especially on an exposed mountainside. All Dean and i could do was get into our cold damp sleeping bags zip the bivvy up and hope the rain would stop. Any idea of having a celebratory drink was a no show as this involved getting out into the rain which was definitely not on the agenda. Given this was all at about 8 pm we had a long night ahead of us.


Footsteps in the Night


Sleeping in a damp cold bivvy is not at all pleasant. I did finally drop off to sleep but woke up in the middle of the night. As I lay awake I could hear footsteps walking round us. At first I was quite interested in this, as I thought an animal of some description had paid us a visit. But as time went on I began to realise this was definitely a two legged creature, with quite purposeful steps. The footsteps, by now, were really close - only a couple of feet away, and I started to get the chills and had a massive fear come over me.

Given my colleagues were also only a couple of feet away, I had no real reason to worry as they (apart from anything else) are big and very strong. Eventually I drifted off to sleep. I remember waking up at circa 0600hrs with ice covering the outside of the bivvy. I decided to pack everything up and walk to the campsite for a well deserved lovely hot shower.

The other two eventually packed their equipment and followed me down the mountain. Dean complained heavily about my kicking him in the head as his bivvy was on the ground at my feet, Simon complete with smoking jacket and cravat said he slept like a baby. I only briefly thought in passing about the footsteps creeping round us during the night, but put it down to being over tired and possibly being awoken in half slumber where dreams can get mixed up with reality and therefore didn't feel it necessary to tell the others.

Having got ourselves nice and clean with warm dry clothes it was time to make our way back south. The drive was, as usual, monotonous, especially when we arrived at the M6 motorway. By then we had run out of things to talk about until Dean said "did you hear any footsteps walking round us last night?" and at this point I realised I hadn't dreamt it after all.

We discussed this for a while and none of us could explain it, Simon simply did not hear it as he slept right through and Dean, to this day, has never given it much thought. I still have no idea what it was, and, as this was some years ago, will never know, only that it was a strange experience.

We had a safe journey home and true to his word Dean has never walked up a mountain again. For my part, it was something I wouldn't have missed for the world and I look back on that little adventure with such fond memories. I still have the bivvy bag and have not slept in it since, simply because the opportunity hasn't arisen. Simon given he didn't hear the footsteps has not given it a second thought. Writing this I still get the chills about who, or what, it may have been.

However, that didn't stop him getting the mountain walking addiction. He badly (as he put it) wanted to address Ben Nevis, to prove to himself that he could walk it comfortably. So, three of them set of from Southampton/Basingstoke for Fort William.




This time the walkers were:

Nick 55
Simon 37
Dean 39

Preparation

We had bought new tents and the plan was to camp at the campsite on the foot of Nevis and walk the mountain the next day spending the following night sleeping rough on the mountain, which I thought would be a nice little adventure and give us something to talk about for years to come. Our first night's camp was pretty uneventful we had a few beers and probably stayed up drinking for longer than was good for us. For the walk up Nevis Simon had decided to take his tent, Dean and I had goretex bivvy bags and I had decided I was going to sleep in my bivvy as it was so much lighter to carry up the mountain and I had always wanted to spend a night under the stars.