My name is Katherine Humphrey and I am the owner of
PoleKat Fitness
, Nottingham, specialising in pole dancing for the fitness industry. I teach in gyms and health clubs around Nottinghamshire and also teach one-to-one and small group private lessons.
My classes are about increasing fitness, confidence, and above all, having fun! They are tailored for the fitness industry, and thus try to move away from the negative stereotype that is still sometimes associated with pole dancing. For me, pole dancing is an addiction, and I canít go out now without wanting to pole dance on every lamppost, railing and tube train I see, which in the interests of health & safety, is not always advisable! With the help of R-Pole int. Iíve turned this addiction into a challenging hobby - Extreme Pole Dancing!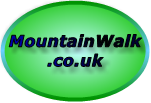 Join us on

Please visit the Sitemap to see the full range of information on this site
MountainWalk.co.uk is produced by
Trish Haill Associates
Copyright

Have you climbed Ben Nevis, Snowdon or Scafell Pike? Or taken part in the Three Peaks Challenge? Or have a special walk you'd like to share? We'd love to here from you! Join us on Facebook or Send us an email.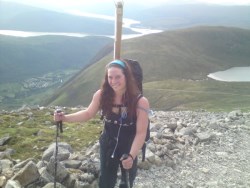 Katherine carrying her pole up Ben Nevis
Pole Dancing on Ben Nevis
One of the Ben's Many Firsts!
Just climbing Ben Nevis is not enough for some people - many like to make it more difficult for themselves.



Extreme Pole Dancing!

When you hear Ďextreme sportsí, what do you think of? Snowboarding? Bungy jumping? Sky-diving? The list is a lengthy one. Thereís even extreme ironing - the Guinness Book of Records holds several entries for ironing in strange places and situations! Well, I have taken up the not-so-well-known hobby of Extreme Pole Dancing!



When I first received my portable R-Pole Play-frame, I started using it in sensible places like the garden and the gym. R-Pole claim that the play-frame can be used anywhere Ė so like an adrenaline junky with a naughty streak, I decided to put this to the test! I pole danced in motorway services, at the finish line of a 75mile bike race, on the beach and in the sea! But even this wasnít enough. Then I signed up to so the Three Peaks Challenge Ė climbing three of the UKs highest mountains (Ben Nevis, Scarfell & Snowdon) in 30 hours. This in itself is a gruelling task, but to make it even more of a challenge, I decided to take a 35kg (5.51 stone) pack (including the R-Pole Play, food, water & clothing) up Ben Nevis and pole dance at the top!


Ben Nevis is the UKís highest mountain, scaling a massive 1344m (4409 ft). I knew that it was going to be difficult, but I didnít anticipate just how difficult. Being a dancer and an athlete, I consider myself to have a relatively high level of fitness, but after only 10 minutes of steep incline with the heavy pack, there was the sudden realisation that, for the first time ever, I might fail. Iíve never been naturally good at anything, and Iíve always had to work extraordinarily hard, but Iíve never allowed myself to give up - ever. One of the biggest stresses of this challenge was that it was time-constrained. I didnít want to slow down the other people in my group, so I told them to go off in front of me and I would see them when they rested at the top.

I slowed my pace a little and got used to the weight of the pack, and after about half an hour I started to really enjoy it. What made this challenge even more difficult was the fact that I have no feeling in my right leg. I have a nerve condition called Meralgia Paresthetica, caused by a damaged L2 nerve from my spine. It means I have no surface or pressure sensation and often causes my leg to become heavy and for my hip to collapse. This did cause me some discomfort, especially when going back down the mountain, but it was all worth it for the utterly unique experience of pole dancing at the top of the UKís highest peak.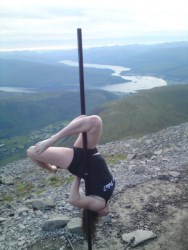 The first person to pole dance on Ben Nevis Summit
When I set up the R-Pole Play on the side of the mountain and stripped down to my pole shorts, people around me couldnít believe what was happening. I quickly acquired an audience, including a stag party, who took pictures and videos of the feat. There were a few scary moments, for example the pole was at angle so a couple of times I was actually suspended off the side of the mountainís edge. I also lost my footing a couple of time on the way back down and the weight of the pack pulled me backwards. But, I had a good team of people looking out for me and completed the Three Peaks Challenge in under 30 hours with little more than a twisted ankle and very tired legs!

So, why did I do it? Apart from satisfying the adrenaline junky in me and having the ability to say that I am the first known person to pole dance on Ben Nevis, I also did it to raise money for three cancer charities - Breast Cancer Care, Joís Cervical Cancer Trust, and Ovarian Cancer Action.


I am renowned for doing crazy things for charity - last year I completed the Tough Guy Challenge, known as the worldís toughest assault course, involving ice lake swims, mud slides, barbed-wire crawls, under-water tunnels, electric fences and fields of fire! In November I am cycling 400km across Kenya in 5 days and pole dancing in the Kenyan desert! Iím trying to raise £2,800 for the three cancer charities and have set up a just-giving website:
www.justgiving.com/katherine-humphrey
Although it wasnít apparent when I first set up the site, I have since had a close encounter with Cervical Cancer myself, so these charities mean even more to me then they did before.
Watch the amazing video of Katherine pole dancing on the very summit below!
Okay, so taking a pole - or even two up Ben Nevis is not at all unusual. So when Katherine emailed me I wasn't quite sure what was so special about her 'pole'. And then I read on....

I hope you enjoy this story about the first person to pole dance at the top of Ben Nevis - and if you feel inclined donate to the worthy charities that Katherine is supporting.

On a last note before you read her story - I only wish I'd been there to see it! Watch the video at the end of the page!