Photo courtesy of Craig Southwick
Often holiday makers decide to climb these mountains on a whim - it's a sunny day, so they start off in shorts, T-shirt and sandals. The summit will be very much colder than when they started, and the ground far more challenging to walk across. On top of that, they'll be miles away from their car and it might start to rain...
You will find if you buy online before you go you will get the best deals on prices. There will be camping and outdoor shops in villages and towns around all the three major peaks, but often the prices will be more expensive.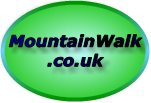 Join us on
Trish Haill