Just one of the fantastic panoramic views from the slopes of Ben Nevis showing Loch Linnhe round to the Sound of Mull to the left, and Loch Eil and the Road to the Isles on the right.
It is strongly advised that you return by the same route, and that you take a map and compass with you. Many people, attempting an alternative, have become struck by the sudden steepness which they incur half way down the hill although the route looked simple from the top. If fog suddenly descends (as is very likely at any time of year) you could be in real danger.
Looking down into Glen Nevis
Tip: Take a camera with you and start snapping those breathtaking views as you go up! The weather will probably change as you climb, and you'll be able to take some beautiful shots as the clouds move over the mountains. You may find that the cloud cover has come down by the time you reach the top, and you can't see anything!
Rising higher and above the neighbouring hills - note the clearly marked path laid out below (and the ever present sheep!).
The lunar landscape of the rocky ascent to the summit of Ben Nevis
Sit down a while, take a break, explore the ruins of the old observatory (you may find you need to take shelter within the walls on a windy day) and then start to think about making your way down.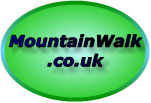 Join us on