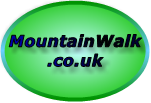 Join us on


Please visit the Sitemap to see the full range of information on this site
MountainWalk.co.uk is produced by
Trish Haill Associates Ltd
Copyright 2013

Have you climbed Ben Nevis, Snowdon or Scafell Pike? Or taken part in the Three Peaks Challenge? Or have a special walk you'd like to share? We'd love to here from you! Join us on Facebook or Send us an email.
Three Peaks Challenge
Not For The Faint Hearted
If you are a novice walker, the Three Peaks Challenge is probably not for you - or not in the way it is normally attempted.



What is the Three Peaks Challenge?


The challenge involves all the mountains described on this site being climbed within 24 hours - and this includes the driving time! Once you have climbed one mountain perhaps you would like to consider how you would like to attempt another one - after just a couple of hours break!


Who does it?


The challenge is often undertaken by groups of people trying to raise money for charity. There are a number of organisations who help to arrange the walks. Non walkers support their friends and colleagues by doing the driving.




How is it done?


When you've spent 6 to 8 hours walking up just one mountain it is hard to imagine how you can attempt all three in 24 hours - let alone also have the time to drive across the three countries! But the quickest time for completion, including 10 hours driving time, is just 15 hours!

The normal 24 hour challenge means starting to climb Ben Nevis at 5 o'clock in the evening, aiming to arrive back down at 10.00 pm. Arrival time at Scafell Pike should be at about 4.30 in the next morning, and the whole walk should be completed by 8.30.




The walk up Snowdon should aim to start by 1.30 pm, and should be completed by 5 o'clock - hence all three peaks in 24 hours! The best time for the challenge is obviously the summer months, where advantage can be taken of maximum daylight!

Walkers can take advantage of the driving times to sleep and eat. However, for those not accustomed to this level of activity, being cramped in a mini bus does not necessarily help tired muscles!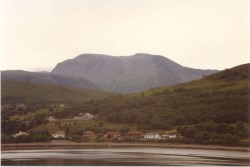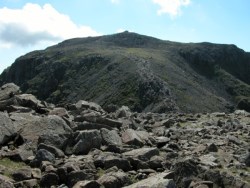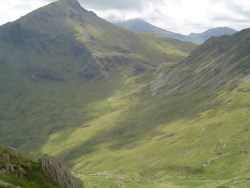 From Ben Nevis ...
To Scafell Pike ...
To Snowdonia!
Remember - even if you are a novice walker, and have climbed all these mountains over a period of years you can take pride in your achievement!
| | |
| --- | --- |
| 1. | Don't forget the importance of nutrition, and the need to replace salts and minerals lost through sweat (those sachets you take when you have the runs are a must for the job). Apparently a tube of Pringles between 3 is not good enough when it comes down to having a suitable food source. |
| 2. | If you have a driver (or drivers) start at Seathwaite and get them to drive to Waswater whilst your walking overnight to collect you at the end. It saves a good hour and in our case, was a deal maker. |
| 3. | Trust in luck but try to make your own. The challenge is 50% preparation, 50% luck and so you need to be carefull when picking the time of year and who you do it with. We heard of many teams that failed just because their group was too big and had to loose time waiting for the slowest man. We were a team of three and apart for the last mountain, we were all on par with each other with ascents averaging 2 hours and 10 minutes. |
| 4. | Clarify, and clarify again, pickup arrangements (Scafell) if they think they know, they don't. The drivers need clear and implicit instructions about where to collect you at the end which may save valuable time (40 minutes in our case) by avoiding the unnecessary job of trying to find where the hell they had parked and fell asleep. |
| 5. | Don't assume you will get a signal. There was no signal in the lakes (when we needed it the most to find them) and there was no signal in Wales when it turned out we all had different ideas about where the end would be |
| 6. | Finally, don't listen to a bloody word the woman in the Glen Nevis centre says when she tells you it is all doom and gloom and bad weather at the top. Listen to those coming off the mountain and let the prophet of doom stay in her little room behind the counter without influencing your decisions! |
Some Tips from Steve who completed the challenge "intact and in time"!