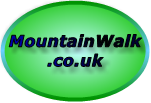 Join us on

Please visit the Sitemap to see the full range of information on this site
MountainWalk.co.uk is produced by
Trish Haill Associates
Copyright

Have you climbed Ben Nevis, Snowdon or Scafell Pike? Or taken part in the Three Peaks Challenge? Or have a special walk you'd like to share? We'd love to here from you! Join us on Facebook or Send us an email.
Where are the Three Peaks?
The map below shows the relative position of the mountains and the driving routes between them.
This page explains where these mountains are, and the relative travelling distances between them. If youíve heard about the Three Peak Challenge then youíll know that itís possible (if you are very fit) to climb all three mountains in 24 hours and that time includes the travel between them. But if that is too much of a rush for you, why not plan a holiday where you climb the three peaks over a week long period?
Where is Ben Nevis?


Ben Nevis is in the highlands of Scotland. The highlands are an area of outstanding natural beauty spanning the to the north and west of the Highland Boundary fault line (as marked by Loch Ness).

Because of the mountainous nature of the region there are very few roads so there is little likelihood of getting lost, but journeys take longer as there are no quick routes from A to B. Ben Nevis, however, is closer to the main A roads than the other two peaks, and is located near to Fort William which has been a tourist town since the coming of the railway in Victorian times. When viewed on a map Scotland does not seem a very large place, but from the border with England to Ben Nevis is a distance of over 180 miles, which will take almost 4 hours driving time.

Where is Mount Snowdon?


Snowdon is located in North Wales within the Snowdonia National Park, and the easiest point to get to is Llanberis, located about 7 miles off the A5 from Capel Curig. The roads in Wales are not fast driving roads. Llanberis sits at the foot of Snowdon, and is the starting point for the Snowdon Mountain Railway. The various starting points for the other walks mean a drive around the Snowdonia National Park.


The driving distances between these peaks are:


Ben Nevis to Scafell Pike - 265 miles, approximately 6 hours
Ben Nevis to Snowdon - 409 miles, approximately 8 hours
Scafell Pike to Snowdon - 138 miles, approximately 3 hours

Where is Scafell Pike?


Scafell Pike is in the heart of the beautiful Lake District in the north west of England, and is probably the hardest mountain to get to if you need to rely on public transport. Wasdale Head, the most popular starting point for the walk is about 20 miles of country road driving once you leave the main A 595.


A = Ben Nevis


B = Scafell Pike


C = Snowdon

More information about getting to each of the peaks can be found on the following pages:

How to Get to Ben Nevis How to Get to Snowdon How to Get to Scafell Pike