Brecon Beacons. Picture courtesy of Nick
We arrived at Scafell Pike and got out of the car ready to go, Simon and Mark set off at quite a pace, with Mark being much younger was well in front. My plan was to pace myself, however 20 min into the walk I found I had nothing in tank. It was a strange feeling, as I had massive fatigue marathon runners say the hit the wall, all I can say is I have felt nothing like it...dreadful. I eventually made it to the top of the mountain and at that point dear reader I pretty well realised it was game over for me. I eventually got down exhausted and told the other two it I was finished (much to their surprise and annoyance).
Final stretch Ben Nevis. Picture courtesy of Nick
Simon and Mark at the Ben Nevis Inn
Simon and unknown walker on Scafell Pike
For those that haven't walked Scafell Pike before, I will tell you now, that at about a third of the way up there is an ankle deep stream which you have to traverse before continuing the long haul of what is affectionately known as "the staircase". Those who have walked this will know what I am talking about. When we set out we didn't have too many hours of daylight but that didn't really phase any of us as we had all walked the mountain before and we all had (or so I thought) head torches.
On we all went, I could still see Simon a little way ahead and we were having to "suck it up" on the long haul to the top, and by now it was starting to get dark. For my part I had got to the top of the staircase now almost dark and at the most tricky part of the mountain (where they say it is easy to get lost) and all of a sudden ( have read about this things but never really believed them) the mother of all rainstorms came in accompanied by very severe gale force winds. To be honest at the time I had wondered what had hit me. The dusk had quickly turned to darkness and I was completely disoriented. I found myself climbing over boulders trying to find the path up but to no avail. I am sure anybody reading this would say "where was map and compass?" which I had, but given the severity of the storm, it was nigh on impossible to read any of it. At this point I felt much to my anger I had to turn back down and eventually found a path down (after sometime of traversing downhill through the muddy grass). At the time I was so cross, partly with myself, partly with my friends and was just basically very angry. I could have lived with myself if fatigue had stopped me but nothing prepared me for this.
Simon ready to go up Snowdon
Simon drove us to Fort William (quite a distance from Basingstoke) and we booked into a lovely hotel (well it looked lovely on the Internet page). To be fair, the rooms and shower were clean, but it somehow had a sticky feeling to it (bit like old night club carpets). Luckily for our evening meal we went to the Ben Nevis Inn (which was ok albeit lost it's way a little) oh, and we managed a couple of pints (we all felt like more as we were having fun).
Ben Nevis in the early morning light
We arrived at Scafell Pike circa 1900hrs and started the second walk, don't hold me to exact time but it was pitch dark before we got to the top. As I said earlier Adam is organised and bought a GPS which was invaluable although at one stage we both managed to get lost, which added to our time. The highlight on Scafell was getting to the summit and looking up at the stars. I once read about a sky that looked like diamonds displayed on a piece of black velvet and that was about it.
View down from Scafell Pike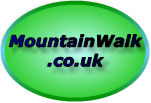 Join us on