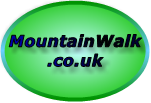 Join us on

Please visit the Sitemap to see the full range of information on this site
MountainWalk.co.uk is produced by
Trish Haill Associates
Copyright

Have you climbed Ben Nevis, Snowdon or Scafell Pike? Or taken part in the Three Peaks Challenge? Or have a special walk you'd like to share? We'd love to here from you! Join us on Facebook or Send us an email.
Pendle Hill
Many thanks to Ady Gray for providing his account of the walk to the summit of Pendle Hill as well as the interesting history of the area, and, of course, the photographs!
A bit of Pendle History


Witchcraft


Pendle Hill. That dark hill of Lancashire. Dark because of its history. Dark because of its association with the 17th century witch trials at nearby Lancaster Castle. In what was one of the most infamous of all the witch trials - and perhaps a gross miscarriage of justice - eleven people faced trial at Lancaster Assizes for practising witchcraft. Nine were hung at Gallows Hill, one died awaiting trial and only one was found not guilty. Those accused were mainly from The Demdike and Chattox families. Others were dragged into proceedings as Justice of the Peace for Pendle, Roger Nowell, expanded his initial investigation into a claim by a pedlar, John Law. John Law insisted that he had been made lame by Alizon Device, the granddaughter of Old Ma Demdike.

Coming at the time of much religious persecution of Catholics - and at the time when Lancashire was considered wild and lawless (possibly for the population reverting back to Catholicism under Mary Queen of Scots). Under, firstly, Elizabeth I and, subsequently, James I, a modern interpretation of this black period in history points to several factors that undermine the claim of witchcraft. Firstly, Lancashire and, in particular, the area of Bowland where Pendle sits, had a poorly, if at all, educated population. Secondly, families were extremely poor and often practised "healing" to gain reward. Lastly, the persecution of Catholics was well under way again with Nowell investigating the "recursants" - those who refused to take the Anglican faith.

This was indeed a black time in our history and James I made things worse with his attitude to witchcraft being unclear: he was convinced that Scottish witches were trying to unseat him. But a definition of witchcraft included healing by common rural techniques that we still use today, such as St John's Wort for depression. James I also got involved personally with witch trials but, confusingly, he often pronounced his scepticism towards the evidence presented and exposed discrepancies in such evidence. Couple this with competition for the King's favour, and the strong religious fervour of the time, and the Pendle Witch Trials seem to be more a case of the events and feelings of the day than anything else.

I can assure you I did not see any evidence of witchcraft on my climb to the summit!
The Quaker Movement


Of course, it's not all black around Pendle Hill. George Fox, the founder of the Quaker movement, is said to have had a vision on the hill. A vision that would see the Quakers flee persecution and imprisonment and the confused religious state of affairs at the time: confused because so many denominations had burst forth all vying for power. Fox preached religious purity, stated that people needed no ecclesiastical training to join the ministry and that no church was needed for prayer or rituals. He even went as far as to proclaim no religious rituals were needed at all. But perhaps his most powerful claim, and the one that could most likely have been the one to underpin his persecutions and several imprisonments, was his belief that believers could follow their own inner beliefs rather than a strict reading of scripture.

A powerful and emotive orator, Fox had a vision on Pendle Hill that his was the true path of religion. Unfortunately for Fox and the Quakers, Catholicism and the Anglican faith were doing battle for power and favour amongst the many changes in the Monarchy and the backdrop of the English Civil War. Fox would, ultimately, lose his fight but not before telling us all in his journal of the wonderful view from Pendle Hill and the gem of Robin Hood's Well - named after the one and only Robin Hood of whom many counties lay claim to, Lancashire amongst them.
The Walk to the Summit of Pendle Hill


But enough of history - or legend in Robin's case - and to the business of what, I believe, is the connoisseur's route up Pendle Hill.

By car, travel to Sabden and park in the main car-park opposite the White Hart pub. By train or bus, travel to Clitheroe and pick up the bus to Sabden. Head for the parish church when you leave the vehicle you travelled in from the Whalley Road crossroads. This is slap bang in the centre of a tiny hamlet that you cannot miss. You'll pick up a signpost for Badger Wells Cottages and, once there, take the well-worn path on the right-hand side of the cottages.

This leads you around Calf Hill and, once it intersects with a path from the west, takes you steadily upwards to Churn Clough reservoir: a clough in Lancashire is a cleft in the hill, much like a ghyll in Cumbria, and pronounced cluff. Skirt the wood above the reservoir and head for Deerstones.

If you want to search for the Giant's Footprints, two roughly footprint-like depressions of around two foot in length, which are said to be where the Devil stood to throw rocks at nearby Clitheroe Castle, then leave the main path shortly before the ladder-stile. If you do visit Deerstones, then simply retrace your steps and cross the ladder-stile and head north-east over Badger Wells Hill to pick up the main path running from Nick of Pendle - a more common starting point for an ascent of Pendle Hill - that leads to Ogden Clough.

This path runs along the northern side of the clough for around a mile till, just past an old boundary stone marked WA, you cross the stream and take the concessionary path, that soon turns into probably the finest example of human endeavour in access path laying, through a gate and onwards through gentle walking to Pendle summit.

You'll emerge at the Trig Point but don't limit yourself to simply taking in the view and then heading back down, either by the way you came up or via Boar Clough and Spence Moor. Take some time to wander slightly north to Grid Reference 805420, right where the number 42 is marked on your Ordnance Survey Explorer series map OL41: Forest of Bowland and Ribblesdale. Yes, I am recommending this map of the area and I also encourage you to get the "Active" version with its weatherproof coating.

Back to the grid reference. This is Robin Hood's Well where George Fox is believed to have refreshed himself as he came down after several days of deliberation on the hill. Under a metal cover is a cup attached to a chain so you can drink from the well. This is pure mountain - well, almost mountain as Pendle Hill is some 170 feet short of mountain status officially - water and is said to be the best water in Lancashire. I don't know if that's true but, on a hot summer's day, it mighty fine stuff…

From the Trig Point, head south-west along the ridge until you reach a path on your right heading westwards to Boar Clough - known locally as Whimberry. Ta the top of the clough you will be on a clear path, well-cairned and marked by "witch" signposts indicating you are now on part of the Pendle Way, a 45-mile circular walk around the area. At the bottom of Boar Clough you now join up with Ogden Clough and follow that down to Ogden Clough reservoir. To follow this route, simply turn left at the bottom of Boar Clough and make your way down the clough to the reservoir. Once there, cross the dam and follow the path straight up the hill till you turn right at a meeting of paths and cross Spence Moor to a boggy area called Stephenson Dole. The path is waymarked but does deteriorate in places. You're heading westwards over Driver Height to Spence Moor. Once at a ladder-stile you can either cross it to reach Deerstones and retrace your steps from there to Churn Clough reservoir and back to Sabden or you can turn left and follow the boundary wall downhill to the reservoir. Either way you arrive at the reservoir, take the path through the field past New York Farm to Sabden.

Not so many take this route up to Pendle Hill with the masses preferring to go from either Nick of Pendle on the Clitheroe to Sabden road or from the village of Barley. That's their loss and your gain. Trust me on this one…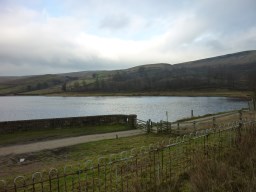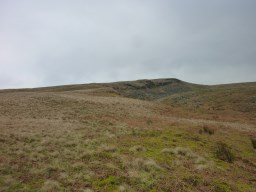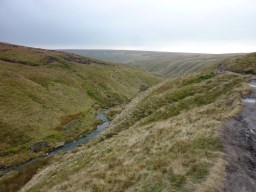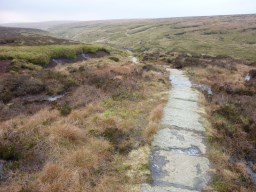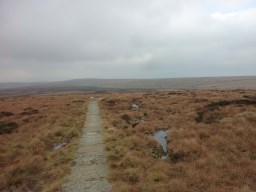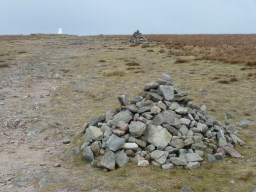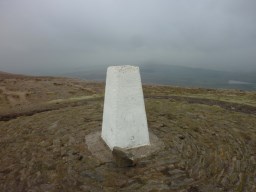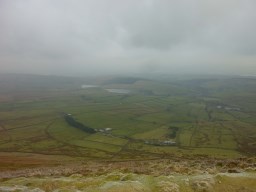 Churn Clough Reservoir
Deerstones
Ogden Clough
The Perfectly Laid Path to Pendle Summit
The path continues...
Pendle Summit
Trig Point at Pendle Summit
View over the Ribble Valley
Other pages you might like:
The Carneddau
Ben Lomond