The Starting Point

The starting point for this walk is in the Ogwen Valley on the A5. You will find that there is plenty of parking here, either in the lay-bys, at the youth hostel, or Ogwen Cottage.

Across the road at the end of Llyn Ogwen is a path that leads up to Pen yr Ole Wen - this path can get boggy so be warned. Along the path you reach a wooden style over a wall. From here the climb can be steep, and in wet weather very slippery. The ascent up Pen yr Ole Wen (3,209 ft) is a grade 1 scramble and makes walking up Mount Snowdon, seem like a very easy stroll! The ascent should take you about 1 and half hours over some great climbing terrain and looking back you will be rewarded with some excellent views of Tryfan.

Once on the summit make sure you stop and take on some much needed food and water for the journey ahead, and enjoy the views of the Glyder's laid out in front of you.

You will see the ledge leading up to Dafydd (3,425 ft) stretching out in front of you, there is now a gradual ascent to the very rocky summit. Once on top you will find a wind shelter which can be very welcome if it is blowing.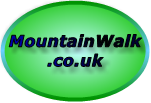 Join us on

Please visit the Sitemap to see the full range of information on this site
MountainWalk.co.uk is produced by
Trish Haill Associates
Copyright

Have you climbed Ben Nevis, Snowdon or Scafell Pike? Or taken part in the Three Peaks Challenge? Or have a special walk you'd like to share? We'd love to here from you! Join us on Facebook or Send us an email.
A Walk Taking in Seven Peaks of the Carneddau
Although many people heading for North Wales often think only of climbing the Snowdon Massif, the Carneddau (often referred to as Carnedds) are a group of spectacular mountains in Snowdonia which should not be overlooked. If you don't enjoy walking with the crowds, you may wish to consider these challenging peaks.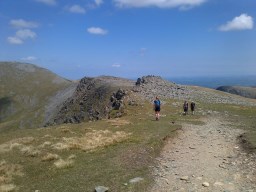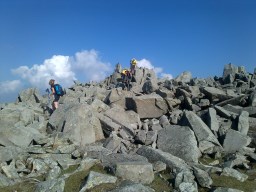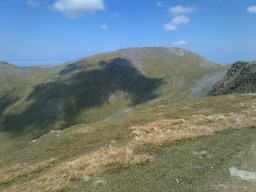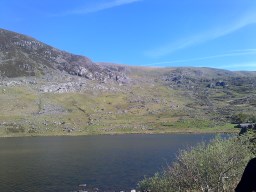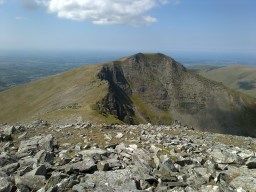 Simon Laughton has kindly provided a description of his walk through the Carneddau undertaking part of the Welsh 3000 (a challenge which involves walking all mountains in Wales over 3000 metres in height). Simon says this is a hard and strenuous route.
Pen yr ol Wen and Dafydd's Ridge
Along the Black Ladder towards Llewellyn
Yr Elen
From here retrace your steps back, and then go down over a rock field towards Foel Grach going past a stone bivvy which can be welcome if conditions turn for the worst - but mind your head as it has a low ceiling!

Once you reach the summit of Foel Grach (3,205ft) which is just a small pile of rock, carry on ahead up the ridge. The terrain from here is now grassy and you have left the rock fields behind. Turn right and ascend up to Garnedd Uchaf (3,038 ft) which is your second dogleg to get to the summit.

Be warned - this is a cold and windy ridge so have your extra layer ready to put on.

Then, finally, head towards your last summit which is about a mile back along the ridge, Foel Fras, (3,091 ft)

This is a pile of large rocks, and you'll have to climb to the top to get to the summit.

After a good 8 hours of walking you will have summited 7 great mountains. Now all that lays a head is the 5 mile walk back to Bethesda which is grassy and mainly now downhill.

I advise that for this trek you will need to take a lot of water with you and food to keep you going. There aren't any convenient cafes on these summits, but you will be rewarded by some great views which you won't have to queue to see!

Llewellyn
Foel Fras
Pen yr Ole Wen to Carnedd Uchaf
This ledge carries on around to the Black Ladder, which has some amazing views of the valley below, and then it slowly descends. Now you should stock up again with your energy boost bars as it is a gruelling straight up ascent of Llewellyn, (3,491 ft) but there is a well defined path up to the summit.

When you get on the other side of Llewellyn this is a good place to stop and take on some more water and food for the next section of the route.

From Llewellyn turn left and descend onto yr Elen this is the first of 2 dog legs, you first descend before climbing back up to the summit of yr Elen, (3,156 ft).