Types of Call Outs for Mountain Rescue Teams

As well as rescuing climbers and walkers who have got into difficulties, Mountain Rescue Teams are also called upon to search for missing people - often children who have become lost, potential/attempted suicides, or patients from residential homes who may be confused. They can also be called to help police rescue people from cars trapped in snowdrifts.

Search and Rescue Dogs

Search and Rescue Dogs are an important part of Mountain Rescue Teams. The dogs are trained in air scenting, trailing and tracking. They are often deployed by 4 x 4 vehicles, or increasingly air lifted in so they can begin their search quickly. Like Mountain Rescue Team members the dogs are always on call. Currently there are over 100 qualified Search and Rescue dogs in the UK. One advantage of dogs is that they can work just as well in the dark as daylight, and in conditions of poor visibility. To become a dog handler with Mountain Rescue you will need to have been a full member of the team for a year learning their techniques particularly where dog handling is involved. You will then need to be proposed and supported by that team.

To begin with you will probably be asked to assist as a 'Dogsbody' for up to six months - dogs in training need someone to find, and a 'Dogsbody' is exactly that! Seeing the dogs being trained will help in training your own dog, and even if you don't want to take that step, anyone would be welcomed to help out in this important role.

If you wish to go on to be a dog handler then it normally takes up to 2 years to train a dog fully. It is best to wait until you've received your basic training and are ready to start training a dog before you get one, and dogs are best trained from a puppy. This is so that they learn the right way, and you don't need to undo any unwanted behaviour they may have picked up.

To learn more about Search and Rescue dog handling and training visit the National Search and Rescue Dog Association.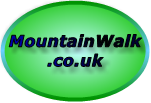 Join us on

Please visit the Sitemap to see the full range of information on this site
MountainWalk.co.uk is produced by
Trish Haill Associates
Copyright

Have you climbed Ben Nevis, Snowdon or Scafell Pike? Or taken part in the Three Peaks Challenge? Or have a special walk you'd like to share? We'd love to here from you! Join us on Facebook or Send us an email.
Mountain Rescue
Emergencies on the Mountain
No one wants to get into trouble on a mountain, or need to call out the Mountain Rescue Team, but before you start a mountain walk make sure you know how to call for help if you do have an accident, become ill or get lost.


Each Mountain Rescue Team is a separate charity, and you can find their contact details at the bottom of this page if you wish to give a donation.

On this page you will find general information about Mountain Rescue, and information if you are thinking about becoming a volunteer. The next section gives advice on how to try and prevent having to use their services!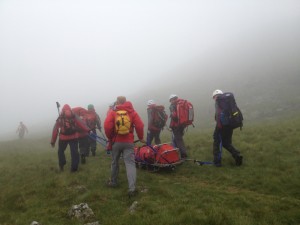 Wasdale Mountain Rescue Team bringing an injured walker off Scafell Pike
Mountain Rescue Teams need Your Help!
Relying purely on donations means that team members have to supply their own clothing and basic equipment, and the cost of all these items can total £1000 or more! The teams would like to be able to fund some of this equipment, but at the moment the funding they receive does not allow them to do this.
If every person who walks, runs or climbs in the mountains this year all donated a small sum this would really help the Mountain Rescue Teams around the country.
Follow the links to donate:
Mountain Rescue England and Wales
Mountain Rescue Scotland
Be Prepared

Mountain weather can be very unpredictable. Although you may have planned your route and picked what looks like a perfect day for your walk, the weather may change suddenly, and instead of bright sunlight you are walking in thick fog - or even snow which can cover the path and make seeing markers difficult.

Make sure you always have at least one fully charged phone in the group, and that you carry a map and compass, and know how to use it.

Before you go ensure that someone knows where you are going. By leaving the correct information including your expected time of return can mean that if you don't turn up the emergency services will know roughly where to find you.

MountainWalk has prepared a form. having takien advice from the Wasdale Mountain Rescue which includes all the information they would like to have to hand when starting a rescue. Please print copies of the form and complete the details before you start your walk. Leave your completed form with a friend, family member or hotel etc. reception. It could save your life!

Supporting Mountain Rescue
Anyone who walks or climbs on mountains may one day find themselves in need of rescue however prepared they are. Accidents can happen, and a simple stumble resulting in a broken ankle, for example, may need a helicopter rescue if it happens in an inaccessible place.
Mountain Rescue teams are not funded, and exist purely on donations. The easiest way to support a Mountain Rescue team is to donate a sum to them - whatever the amount it will always be appreciated. You could even hold a fund raising event with the proceeds going to the team of your choice. If you have needed the help of a rescue team this is a very good way of saying 'thank you'.
Nigel did just that when he fell ill on Snowdon and needed a helicopter rescue. He returned, with friends, to take on a special Snowdon Challenge, raising proceeds for Mountain Rescue in the process.
Read about his challenge here
.
Joining a Mountain Rescue Team
If you are thinking of joining a Mountain Rescue Team you do not necessarily need to be fit and become an operational member. Support team members are needed to muster the rest of the team for emergency call outs and to organise rescues from the bases. If you want to become part of the rescue team itself you will need to be fit and preferably have mountaineering skills, although in many cases hill walking experience will be sufficient. Navigational skills using a map and compass are pre-requisites. You will be expected to undertake training and a probation period lasting up to a year before you become a full team member.
Commitment of Team Members
A mountain rescue team is always on call - 365 days and year and 24 hours a day. It is another emergency service just like the police, fire or ambulance services and people dialling 999 expect the response to be swift and effective. The police rely on Mountain Rescue to be able to provide the right size team with the right experience to every rescue. A team member will need to be prepared to drop everything at a moment's notice to attend a rescue. As well as actually being out on call there will be regular ongoing training (even after the probation period) together with team meetings and briefing sessions. It is not a commitment to undertake lightly. Although many employers are sympathetic and supportive, family members have also got to agree to accept that family time may be interrupted.
There is no pay for team members - mountain rescue equipment is provided, but you would be expected to provide, and replace when worn, basic walking and mountaineering equipment and clothing.
Read an
Interview with the Wasdale Mountain Rescue Team
and learn how to avoid having to use their services!
Mountain Rescue is another emergency service, and is accessed in the same way. If you get into trouble on the mountain dial 999 and ask for Police, Mountain Rescue.

If you are well prepared for your mountain climb you should not need to be rescued, but if the worst happens it is good to know that around the country there are mountain rescue teams who are well equipped to deal with emergencies on the peaks. The mountain rescue teams are all run by volunteers, and depend on donations to keep them going.