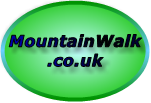 Join us on

Details of Walk and Walkers Form
Note to Form Recipient: If the walker(s) does not return as planned or you have other cause to worry about their safety dial 999 and ask for Police, Mountain Rescue and give them the details on this form.
However well prepared you are, and however experienced Mountain Walks can turn from a pleasant day out into a nightmare for a number of reasons. The weather may turn bad, you may lose your way, or you could simply fall or become ill during the walk.

By completing this form and leaving it with a friend, family member or even someone at a hotel etc. you might be visiting will allow an alarm to be raised if you do not turn up at the expected time, and have not been in contact.

Leaving the details below will mean the correct help can come to you quickly, and possibly even save your life.

Please print out the blank form and take it with you to be completed on the day.
Date of Walk

Names of Walker(s)

Route Planned

Estimated Time of Return

Alternative Route you may take

Mobile Telephone Numbers of Group

Expected Car Parking Location

Vehicle Description and Registration Number

Equipment Carried - e.g. GPS, Map, Compass, First Aid Kit

Ages and any notable medical conditions of walkers