The Llanberis Path
We thoroughly enjoyed our experience and felt we had achieved another challenge even though we were exhausted. We were certainly not the oldest at 50 but still felt good we had done it at this age.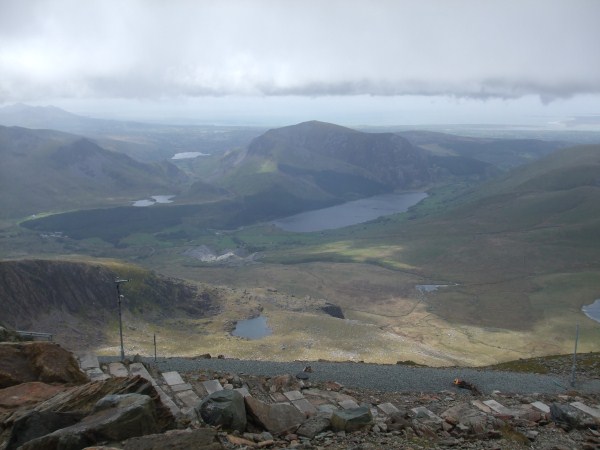 Carol and Phil's Story


We have just returned from climbing Snowdon!

After trying the Ranger path on Tuesday. We had to unfortunately turn back after climbing three quarters of the way up as the weather turned bad with gusty winds and clouds obscuring our path. We were very disappointed as we had planned this in January and had been practicing climbing in the Peak District on Thorpe Cloud.

We felt we could not give up although we had already walked many miles on waterfall walks and around Betws-y-Coed. So we went back on Wednesday and tried the Llanberis Path, which we had understood to be easier!

After parking the car and climbing the road up to the start of the path (yes it was very steep) we started our long journey. After reaching the Halfway House (which was closed) my partner asked if I wanted to turn back, I did want to but I was determined to complete the challenge, the rest of the journey was very hard and steep to climb.

Many others told us we were nearly there as we struggled to keep going, but each time we had a lot further to go! We eventually arrived at the summit, hurray! It was very windy and cold, we had a comfort break with a very welcome mug of coffee. We then bought a certificate each and a hat with details of the climb embroidered on it.


The shop then had to close due to weather conditions, as the train cannot ascend or descend in bad weather, the staff traveled down on the last train. We prepared ourselves for the long walk down as the clouds descended upon us, only to be met by a man running on the way up and a man with a baby on his back! It took us a long time to walk back down, but was a great relief to be on the descent.

I completed this walk last March 2010. On the day we chose the weather was fantastic with clear blue skies overhead. There had been quite a lot of snow, but none was forecast that day.

At this time of year it is very important that you have the right equipment - a warm windproof jacket, gloves and hat together with sturdy walking boots are quite obvious, but you will need to take ice axes as well as the going can be slippery.

From the start of the Llanberis Path to the summit is around 5 miles. It starts at the Snowdon Mountain Railway station, and being the most popular path up Snowdon is easy to follow. We passed the car park and turned right to a small road, and crossed a small square and saw the gate at the other end. The walk begins on a roughish by-road with the railway on your right.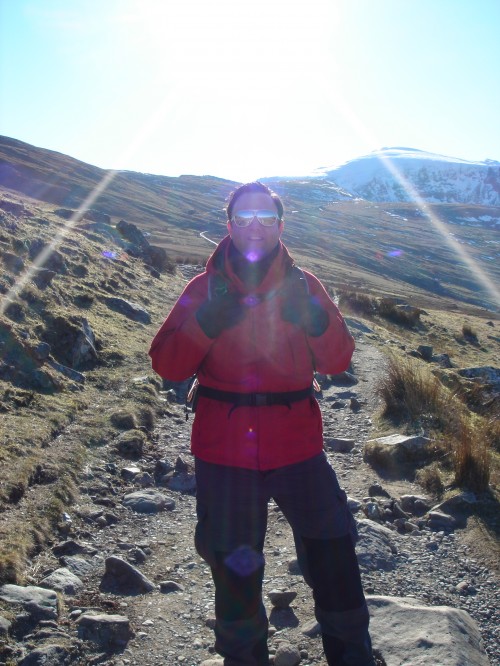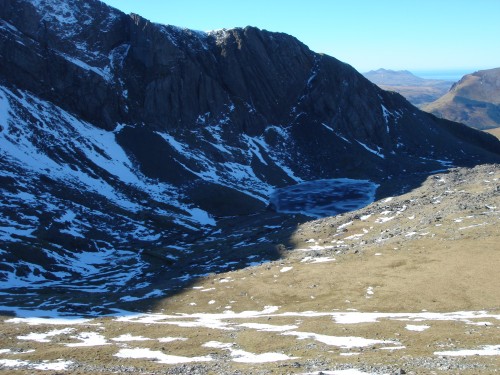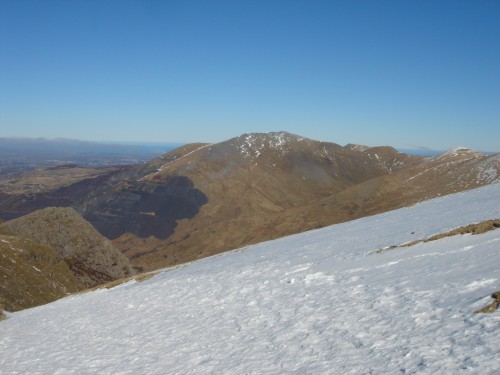 Carol and Phil's view from Snowdon Summit
Snowdon train near summit - Picture courtesy Craig Southwick
David Knockton
(Walks and Walking.com)
(reproduced with permission)
The Llanberis Path is the longest path, but considered to be the easiest although it does get steep in places! Here are some experiences of people who've chosen this route up Mount Snowdon (and with grateful thanks for sharing their stories!)
Frozen Llyn Du'r Arddu Lake in the Cwm Brwynog - Picure David Knockton
Looking back from Mount Snowdon down the Llanberis Pass - Picture David Knockton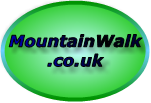 Have you climbed Ben Nevis, Snowdon or Scafell Pike? Or taken part in the Three Peaks Challenge? We'd love to here from you! Join us on or Send us an email.


Join us on
Longest but Easiest Route up Snowdon
The path runs parallel to the railway line, and after a left hand turn it steadily rises. Crossing under the railway line takes you the Halfway House. The going begins to get a little harder but the frozen lake, Llyn Du'r Arddu, is a beautiful sight and we were smiling with pleasure as we looked down on Cwm Brwynog.
We had walked under the railway line at Clogwyn Station, and here we needed to stop, along with most other people, to put on crampons and to swap walking poles for ice axes.

This, we thought, was a good place to stop for lunch as we were rewarded with stunning views looking back down on Llanberis Pass.

As we started off again the path swung round to the south and under the dome of Crib y Ddysgl. We continued until the path ended by the railway terminus at the summit.

The descent was simply reversing the way we had come.

Please visit the Sitemap to see the full range of information on this site
MountainWalk.co.uk is produced by
Trish Haill Associates Ltd
Copyright 2013