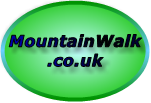 Join us on

Please visit the Sitemap to see the full range of information on this site
MountainWalk.co.uk is produced by
Trish Haill Associates
Copyright

Have you climbed Ben Nevis, Snowdon or Scafell Pike? Or taken part in the Three Peaks Challenge? Or have a special walk you'd like to share? We'd love to here from you! Join us on Facebook or Send us an email.
Walking Boot Review - Merrell Chameleon
Boots reviewed:


I think what I look for in a walking boot can be summed up as 'all weather comfort'. I want a boot that I don't know I'm wearing, with good grip for all terrains, and that's waterproof in the wet and doesn't overheat in the dry.

First off, a comment on fit. My feet seem to vary between a size 5 and a size 6, so I tried the 5 ½ and am pleased to report that they are an excellent fit either with or without walking socks. The man's pair, a size 9, were also a good sizing. I'm always dubious buying footwear online, so to have standard fitting was the first bonus.

Although I can't always climb mountains, I do walk. I have an active young Irish Setter who gets hyper unless she has a few miles under her belt every day, and she doesn't care if it's dry or raining, warm or cold with a gale force wind blowing. Which means, I can't either!

The first thing I found when I slipped on the Merrell walking boots was how comfortable they felt. The inner sole seemed to cushion my feet. I would have preferred cleats to get the laces really tight, but having worn them for quite a while find it isn't much of a problem. Despite knowing that you're supposed to wear in new boots, I decided to set off on one of my wanders exploring the local footpaths immediately. When I returned a couple of hours later my feet were as comfortable in my boots as they were when I started out, no blisters, no rubbing.


Mountain Walk was asked to review 2 types of Merrell walking boots - one pair for men, and one for women. The boots were trialled for a period of six weeks, during which they were worn in all weathers (okay, not snow and ice as we haven't had that yet!), and on various terrains.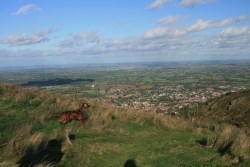 The men's boots were also a comfortable pair of boots. These did have two pairs of cleats to get those laces pulled really tight - the only downside was that they didn't seem as easy to take off as the women's version which I put down to technique!

So the next test for both pairs was to take them to rough terrain and try them on steep slopes. The grip on the soles proved more than adequate on what seemed like a near vertical slope at times in the Malvern Hills and on both the ascent and descent we both found our feet held firmly in the shoe so no stubbing of toes against the end.



And finally - what are the boots like in the wet? Although you might be able to avoid walking in torrential rain, in the autumn and winter long grass seems to remain wet and never quite dry out, so it's imperative to have boots that keep feet dry. I'm pleased to say that both pairs of Merrell boots passed the test with flying colours with our feet nice and dry even after walking in heavy rain over fields.

All in all I pleased to recommend these boots for their comfort, grip and waterproofing, and expect that they'll become my favourite walking footwear for some time to come.
Malvern Hills - not a mountain, but a steep climb none the less!
For those interested in the technical details:

Upper/Lining
• Combination construction delivers stability in the heel and flexibility in the forefoot
• Waterproof full grain and nubuck leather
• Waterproof membrane provides impermeable but breathable barrier
• Ortholite® anatomical footbed

Midsole/Outsole
• Compression moulded EVA footframe provides cushioning
• Moulded nylon arch shank
• Merrell Q-form® Comfort midsole provides women's specific stride-sequenced cushioning
• Merrell air cushion in the heel absorbs shock and adds stability
• 5.5mm sole lug depth
• Vibram® Chameleon Arc 2 Sole/TC5+ Rubber

Merrell Chameleon walking boots are available to purchase at fitnessfootwear.com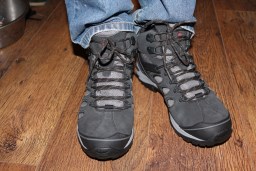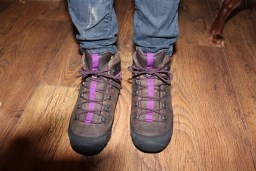 Men's Chameleon 5 Mid Ventilator GTX
Women's Chameleon-Arc-2-Rival-Waterproof
Update after 3 months use


Well, we've had rain, rain and more rain. Most of our walks are ankle deep in mud or standing water, and I'm pleased to say that both pairs of boots have stood up well, and are completely waterproof! We remain exceptionally pleased with the Merrell Chameleon walking boots