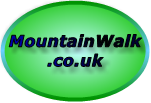 Join us on
On this page we've pulled together some hiking gift ideas to suit every budget.
These items are those that are best rated on Amazon. Alternative suppliers can be found on the left.
Walking Poles come in a variety of prices and if your loved one hasn't already got a pair, this is the present any walker would want! The Trekrite Antishock Walking poles are very popular, and being priced around the £15 mark are a very useful gift whilst not breaking the bank!
A more expensive present for a serious hiker might be a pair of Leki or Black Diamond trekking poles. The more expensive poles are usually lighter to carry.
(click on image for more details)
(click on image for more details)
Other waterproofs you might find useful are waterproof gaiters, waterproof phone covers and waterproof map pockets.
(click on image for more details)