The summit is marked by a cairn, on top of which is a brass plaque which points out what you might be able to see, and the distance away it is. If you are lucky you might get good views - however, you might only just be able to see your hand in front of your face! Whichever way, you can be proud you reached the top!
The sort of view you hope for from the top of Snowdon!
The view from the top on a slightly less clear day!
The top of the summit cairn on a clear day
The summit on a foggy day (left)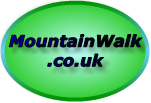 Join us on
The knife edge arete of Crib Goch
Once you have chosen the route you wish to take, unless you are using the bus you should aim to get to your starting point early in the morning - the car parks fill up very quickly, and you don't really want to add extra miles of road walking to your day - the ascent itself will be enough to wear you out! The postcodes of the nearest car parks and (hopefully) current parking charges are shown under the walk information below.
Rocky scrambling near the summit
Trish Haill